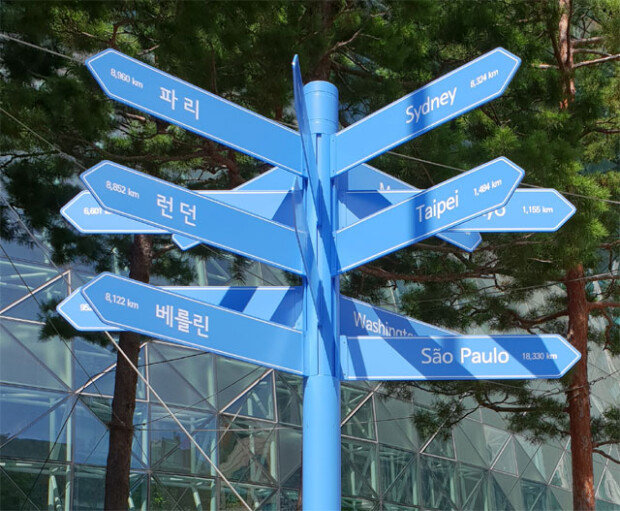 Signposts displaying the distance between Seoul and major cities around the world including Pyongyang will be installed across the city's main tourism spots. The new installations are expected to serve as a symbol of Seoul as shown in the cases of other foreign cities.
The Seoul metropolitan government announced Thursday that signposts in the color of blue marking the direction and the distance towards 15 major cities around the world will be set up in 20 tourist spots most frequented by foreigners such as Seoul Plaza, Gangnam Station, and Myeongdong. Currently, the installation work has been completed for 13 spots, and the rest seven will be installed within August.
Most outstanding among the 15 cities is Pyongyang. The English name of the city and the number 196 kilometers, the distance from Seoul, are written in the signpost. The North Korean city is located the closest to Seoul among all other cities. The city government of Seoul explained that the inclusion of Pyongyang reflects that "the increasing amount of inter-Korean exchanges has shortened the emotional distance between Pyongyang and Seoul."
The rest 14 cities are either Seoul sister or friend cities. In addition to Pyongyang, nine cities such as Tokyo, Beijing, Sydney, Washington, San Paulo, London, Paris, Moscow, and Cairo will be marked in the signposts. The application of the rest five cities will be changed depending on the characteristics of the regions when the signs are erected.
"The city signs will naturally catch the attention of passersby, and we expect that it will make huge contributions to promoting the city's value of 'Walking City, Seoul'," said an official from the Seoul city government.
Woo-Shin Han hanwshin@donga.com