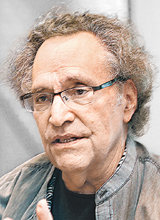 "If you follow through reality, you never know what you will learn new. Sometimes the direction of the program changes completely. That's what makes documentaries so special."
Gordon Quinn, known as the Master of Documentary Films, was interviewed on Wednesday at a hotel in Mapo-gu, Seoul. He visited Korea as a judge for the EBS International Documentary Film Festival (EDIF), which is being held from August 20 to 26. For 53 years of his career, the pioneer documentarian directed several films including "A Good Man" (2011) and "'63 Boycott" (2017).
"Documentaries play a key role in democracies. You have to make the audience feel the emotions and give them a new perspective, even if the story is simple," he said. "The storytelling technique of documentary is to naturally convey the message through the story and figures, rather than directly posing the message."
The 76-year-old artistic director, who was previously part of a judge panel in the Sundance Film Festival, stressed the importance of "passion" as the criteria for the winners. "Director needs to contemplate why this story needs to be told, why it is important and whether he or she is appropriate to convey the message," he said. "Recently there have been an increasing number of films on refugees, but such issues have been around for more than 30 years. Directors should be able to present stories unknown to the audience."
Kyu-Jin Shin newjin@donga.com