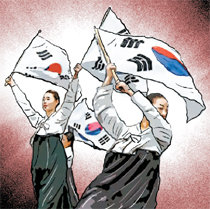 "Men are involved in movements to declare and demonstrate independence, women, though unenlightened and physically weaker as a group, as the same nationality and conscience, will rise to the occasion without hesitation," states the Korean women's declaration of independence, drafted one month earlier than the official independence statement declared on March 1, 1919. The manifesto was written by the Korean Patriotic Women's Club, which was active in Northeastern China at that time, to promote women's independence movement.
The March 1st Independence Movement was a united one participated by all people, regardless of gender. Yoo Gwan-sun is perhaps most prominently known among women activists, but there are several others, including Dong Pung-shin, who also participated in the March 1st Movement at the age of 17 and passed away in prison. Kim Kyung-hwa, Park Yang-soon, Seong Hye-ja, Ahn Ok-ja and several other women activists at Baehwa Women's School were prisoned after re-enacting the movement a year later. In 2014, some publishers of Korean history textbooks omitted Yoo Gwan-soon. Doosan, one of the publishing companies, introduced a lesser known figure named Kang Ju-ryeong, who was involved in the Anti-Japanese Armament Movement in Northeastern China with her husband. When he passed away, Kang returned home and joined labor movement.
The sacrifice and resoluteness of wives and mothers of fighters for independence would have surely served as a strong foundation and tool for steadfast independence movement. Maria Cho, the mother of the prominent independence activist Ahn Jung-gun, refused to meet her son in prison for the last time and sent him a handmade shroud and a letter telling him to "go in dignity in the shrouds." Cho herself was a strong independence activist, supporting the Korean provisional government after her son passed away. Lee Eun-sook, the wife of independence activist Lee Hoe-young known for founding the Shinheung Military School, was also legendary. Born as the only child of an aristocrat family, she spent years in China supporting independence activities funding through needlework and authored a memoir of her experience.
Despite the contributions, Korean women's independence movement has been largely forgotten. Women only account for only 3 percent of 15,000 independence patriots in Korea. In a congratulatory speech celebrating National Liberation Day, President Moon Jae-in spoke of the "unearthed history of women independence movement", citing names such as Kang Ju-ryeong as well as Koh Cha-dong, Kim Kye-suk, Bu Deok-yang, Bu Chun-hwa and other women divers in Jeju who led the anti-Japanese movement. To have lived as women in an era of colonial rule and patriarchy should have been particularly brutal and unjust. Though belatedly, it is time that their contribution should be righteously recognized and honored.
Kyung-Im Woo woohaha@donga.com