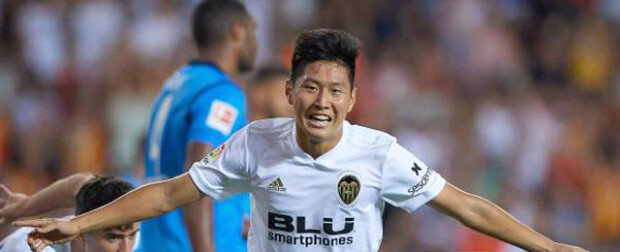 Right after Lee Kang-in of Valencia rushed towards the opponent team's goal to score a header, his much older teammate Simone Zaza (27) raised Lee up into the air. As if deeply impressed by the goal scored by his young teammate, Zaza raised Lee high up twice, smiling as if entertaining a baby. Lee's teammates wildly congratulate him one after another by petting his hair, while fans gave standing ovation to the young rookie player, who scored his debut goal in the primary league.
The 17-year-old scored his first goal in his debut game in the league of grown-ups against Germany's Leverkusen, which took place at Mestalla Stadium in Valencia, Spain on Sunday. As a substitute in five successive pre-season matches on the day, the South Korean player scored the finishing goal at the 41st minute in the second half when his team was leading 2-0. It was at the eighth minute after his entering the match.
Valencia fielded a number of players in its youth team, including Lee and Jordi Escobar (16, Spain) in the pre-season event to test their capabilities and performances. The team's coach Marcelino Garcia Toral believes that as long as a player is capable, Lee can play in the primary league of grownups in the regular season, even if he is very young. "Sixteen-year-old players, who can demonstrate that they are more capable than 27-year-old players, will have a chance to play," Toral publicly said ahead of Sunday's match. "As was the case in the last season, I will open positions for youth team players to participate in the primary league." Given that he has run as a substitute in five consecutive pre-season games until Sunday, Lee is likely to appear in regular season matches of the primary league.
Given that the team has offered a buyout (minimum transfer fee) of 80 million euros recently, Valencia has so high expectation on the potential of Lee, a left-footed player who has demonstrated strength in dribbles, penetration and passes. Valencia will hold its 2018-2019 season opener in the Primera Liga against Atletico Madrid on August 21. Attention is focusing on whether Lee will be able to make his debut in the primary league in the season's opener.
Jae-Hyeng Kim monami@donga.com