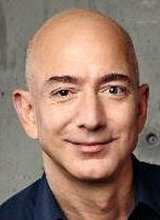 Jeff Bezos, founder of the world's largest e-commerce company Amazon, has become the world's richest man.
Bloomberg and CNN Money revealed on Monday (local time) that the asset of Bezos exceeded 150 billion dollars through the Bloomberg Billionaire Index. This is the largest sum of money since 1982 when Forbes started ranking rich men in the world. This figure is 55 billion dollars more than the asset of Microsoft co-founder Bill Gates, who used to be the world's richest man for many years.
The asset of Bezos has increased by 52 billion dollars (some 58 trillion won) this year, which is more than Alibaba Group Chairman Jack Ma's total asset of 44 billion dollars). Bezos is followed by Bill Gates (95.3 billion dollars) and Warren Buffett of Berkshire Hathaway (83 billion dollars).
By launching the annual promotion event that goes on for 36 hours Monday, Amazon saw its stock price skyrocket to hit a record high of 1,841.95 dollars. Upon opening the event, people find it difficult to log onto Amazon's homepage at a certain point.
The share price of Amazon skyrocketed by 56 percent within this year not only in online shopping but also in its business involving cloud computing and media market. Bezos is the largest shareholder of Amazon owning 16 percent of the shares.
rocku@donga.com