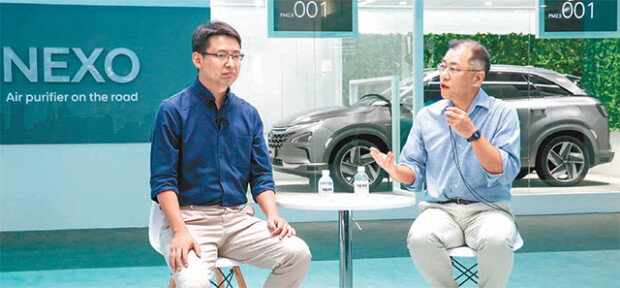 Hyundai Motor Company Vice Chairman Chung Eui-sun has been strengthening cooperation with Chinese startups that have cutting-edge technologies in the fields of artificial intelligence (AI) and autonomous driving, in a bid to gain the upper hand in the future car market.
At the CES ASIA 2018, which opened Wednesday at the Shanghai New International Expo Center (SNIEC), Hyundai Motor announced that it would enhance technological cooperation with Chinese startups, such as AI firm DeepGlint. "China is leading innovation in mobility technology along with Silicon Valley thanks to its passionate companies and open-minded customers," Chung said in his key note address. "We will focus our capabilities on the development of innovative technologies and deliver greater satisfaction to our customers." His remark suggested that the company is targeting China, the largest car market in the world.
CES ASIA is an exhibition started by Consumer Technology Association (CTA) in 2015, targeting the Asian market. This year's event, which marks its fourth anniversary, will be held from Wednesday to Friday. This is Hyundai Motor's second participation in the event and first for Kia Motors.
Chung made an emphasis on future cars and eco-friendliness in his keynote address. China has expanded the use of electric cars on a government level and toughened its regulations on environmental pollution as it has been suffering from fine dust and air pollution. "We will focus on developing AI technologies so that we can contribute to the environment with our eco-friendly cars and establish a safer driving environment," Chung stressed.
After visiting Chinese companies, Chung said their technologies seemed to have "improved greatly." "I'm planning to visit Hyundai factories in China as well," he added.
That day, Hyungdai Motor announced its partnership with Chinese AI startup DeepGlint. Since its foundation in 2013, the Chinese AI company specializing in developing "vision technologies" that recognize objects and make decisions based on the information using ultra definition cameras. "Our company and Hyundai Motor have the same vision as we both are developing AI technologies for human, society and the environment," DeepGlint CEO Yong Zhao said. Some speculate that Hyundai Motor would apply DeepGlint's video recognition technology to its strategic models for China.
Hyundai Motor also signed an autonomous driving deal with Baidu, the largest Internet service company in China, called Apollo. "We aim to offer customers freedom of time and space beyond a simple means of transportation," said Lee Jin-woo, vice president at Hyundai Motor's Autonomous Driving Center. "We have already been in a partnership with Hyundai Motor since 2015 for the Baidu Map Auto. Now that partnership has expanded to autonomous driving technology," said Gu Weihao, general manager of Baidu's intelligent vehicle division. Baidu has been chosen by the Ministry of Science and Technology of China as one of the leading AI companies. Other global companies, such as Daimler, Ford and Microsoft, are also participating in this project. Hyundai Motor has attracted attention that day by showcasing its fuel cell electric vehicle (FCEV) Nexo.
Kia Motors has launched its infotainment system it developed in collaboration with Chinese IT firm Tencent's QQ Music solely for the Chinese market. The system will be installed in all Kia cars that will be launched in China starting from next year. The system allows users to control multiple functions, such as music, sunroof and windows. Kia Motors has also unveiled its vision for future car market, "Boundless for All" for the first time at the industry fair in China. "We'll make sure everyone can enjoy a mobility experience in hyper-connected society, where everything is connected," said Hwang Seung-ho, head of Kia's Auto Intelligence Division.
Eun-Taek Lee nabi@donga.com