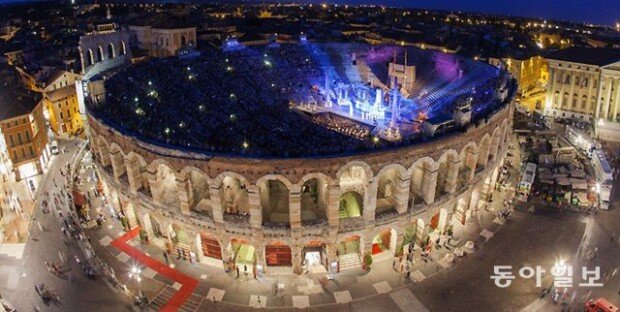 In celebration of the 40th anniversary of the Sejong Center for the Performing Arts, soprano Jo Su-mi and tenor Roberto Alagna's duet concert "Diva and Divo" is scheduled for Thursday at Sejong Grand Theater. The concert features a variety of opera arias and the first four of the list caught my attention.
Jo and Roberto will first sing a duet song "Ange adorable (Adorable angels)" from Gounod's Romeo et Juliette. And Jo Su-mi will sing "C'est I'histoire amoureuse (Laughing Song)" from Auber's Manon Lescaut and "Oh, quante volte (Oh! How many times) " from Bellini's I Capuleti e i Montecchi. Then Alagna will sing "Giulietta, son lo (It's me, Giulietta)" from Zandonai's Giulietta e Romeo.
"Manon Lescaut" was introduced in this feature last month. Both Massenet and Puccini adapted the original work for their own version of opera. There is another version of Manon Lescaut created by French composer Auber. The duet concert at Sejong Center will present different versions of opera music based on the same work, William Shakespeare's play "Romeo and Juliet." No play has been the theme of so many musical compositions as Shakespeare's tragic story of the Veronese lovers.
The masterpiece in the history of theatre was premiered in 1591, and since then it has been adapted for opera multiple times and has long been loved by music lovers. There have been several versions of opera entitled Romeo and Juliet by Gounod, Zandonai, Benda and Zingarelli. If we include all nameless, forgotten works and other operas with different titles such as "the House of Montague and the House of Capulet" and "The Lovers of Verona," there have been more than 30 operas on the subject.
Verona, a small town in northern Italy, or Romeo and Juliet's setting, is known as a romantic city for all lovers around the world and earned its nick name as City of Love. It is interesting to see the walls and the river Adige forming a heart shape that enclose the town. Since 1913, the city has been holding an annual opera festival in the historical sites of Rome, attracting world opera goers as well as new fans.
From Aug. 1 to Aug. 9, this reporter will embark on a journey to the opera festival. I will enjoy Verdi's Aida at the Verona opera festival and watch Rossini's Barbier de Seville (The Barber of Seville) at an ancient roman amphitheatre in Orange, a small town in southern France.
gustav@donga.com