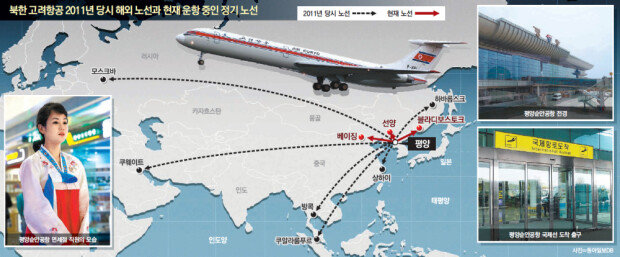 It was confirmed that North Korea requested opening of new international air routes to the International Civil Aviation Organization (ICAO). Upon hearing the news from the ICAO, relevant agencies of South Korea have begun discussing and reviewing the matter.
According to the ICAO and the Ministry of Land, Infrastructure and Transport on Tuesday, North Korea recently said to the ICAO that it wants to open new international air routes. "North Korea requested opening of air routes that enable it to travel to multiple regions," an ICAO official said in a written interview with The Dong-A Ilbo. "We need cooperation from our member countries in the Asia-Pacific, European and the North Atlantic regions." But the ICAO did not reveal in detail which air routes North Korea wants to open. Chances are the air routes pass through the airspace of particular countries.
What is concerning is that the opening of the air routes North Korea requested reportedly affects the flight information region (FIR) of South Korea. At the end of March, the ICAO asked for South Korea's opinion about the new air routes North Korea requested. "It is difficult to reveal which air routes North Korea requested to open to the ICAO at the moment," a ministry official said. "We are currently conducting an internal review as the routes affect our airspace." Meanwhile, North Korea said it is willing to open its FIR to South Korea.
The aviation industry says the opening of North Korea's FIR will help domestic airliners save 16 billion won a year in gas. Domestic airliners have made a detour around North Korea when flying to the United States and Russia. If they are allowed to pass through North Korea, they can travel approximately 200~500 kilometers less when traveling from Incheon to the United States.
bjk@donga.com · thousand@donga.com