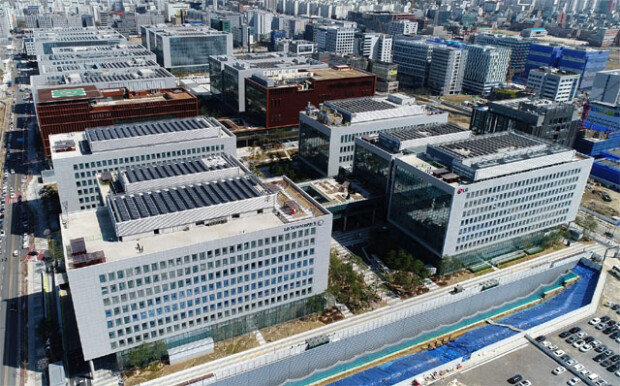 LG Group started operation of its giant fusion and convergence research and development complex located in Magok, western Seoul on Friday. LG Group invested a total of 4 trillion won (3.74 billion U.S. dollars) to construct the nation's largest R&D complex, which comes with a total floor space of 1.11 million sq. meters.
Attending the inaugural ceremony on the day, President Moon Jae-in said, "We no longer need to envy Silicon Valley." It was the president's third visit to a major Korea-based conglomerate after Hanwha Q Cells and Hyundai Motor.
LG Science Park brings together more than 22,000 R&D employees from major LG Group affiliates including LG Electronics, LG Chem and LG Display. Going forward, the complex will serve as the conglomerate's beachhead that will comprehensively spearhead its R&D operation and discover future engines of growth. Moreover, the research hub will play a key role for an "open R&D ecosystem" as it is equipped with an open research space for small and medium-sized companies and venture firms, and "Joint Lab," a facility for collaborative research by domestic and overseas research organizations.
LG Vice Chairman Koo Bon-joon said on the day his company will develop LG Science Park into a people-centered innovation-based growth hub. "The most valuable assets for a company are people and technology," he added. "We will develop LG Science Park into a model of 'innovation-based growth' that pools together creative thinking and technology of tens of thousands LG Group employees to formulate new values."
After the ceremony, President Moon took a tour to the technology exhibition hall at LG Science Park, gaining first-hand experience with diverse high-tech equipment. Visitors were received and welcomed by an artificial intelligence robot on the first floor at LG Science Park's convergence assistance center, the venue of the inaugural ceremony on the day. The AI robot is being developed jointly by LG Electronics and SG Robotics, a startup specializing in development of wearable robots.
"We will ensure that LG Science Park will generate synergistic effect by not only integrating the group's own R&C capabilities but also combining diverse external knowledge and capacities of small and medium-sized companies, venture firms, and universities in Korea and around the world," an LG spokesman said. "We will create exemplary models of 'shared growth' by enabling Korean small and medium-sized enterprises and venture firms to use LG Group's technology and global infrastructure and to strengthen competitive edge."
LG Science Park is already housing more than 17,000 R&D workers from eight LG Group affiliates including LG Electronics, LG Chem and LG Display. LG Group plans to expand its research manpower there to 22,000 in phases through 2020.
dong@donga.com · weappon@donga.com