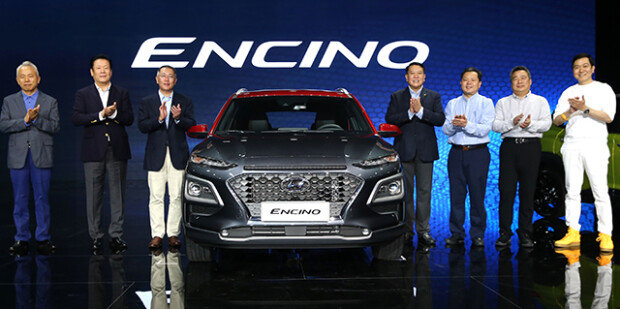 Hyundai Motor Co. is attempting to make a new foray into the Chinese market with a new compact sport utility vehicle (SUV), after suffering from sagging sales in the wake of a diplomatic row over Seoul's deployment of a U.S. missile defense system. Chung Eui-sun, vice chairman of Korea's largest automaker, was present at the unveiling ceremony in Shanghai to woo Chinese consumers.
Beijing Hyundai, the carmaker's auto joint venture in China, held a ceremony on Wednesday to launch the Encino subcompact SUV at the Shanghai World Expo Exhibition and Convention Center where some 500 people were on hand, including Beijing Hyundai executives and staff and journalists.
The Encino champions the slogan "New Discovery of SUVs," sporting characteristic and sensible design that the company says reflect Chinese customers' tastes. The vehicle also features excellent driving performance, active driving safety technology and the Baidu connectivity service.
"Beijing Hyundai is making endless efforts to meet the customers' expectation in the Chinese market where the market environment and technologies are changing rapidly," Vice Chairman Chung said at the unveiling ceremony. "We will continue to release vehicles that will exceed customers' expectations by developing products optimized for the Chinese market."
Hyundai expects the Encino to reignite sagging sales for its vehicles in China. Hyundai had showed strong sales performances in China, selling 1.06 million cars in 2015 and 1.14 million in 2016. In the wake of the Seoul-Beijing diplomatic row, however, the company saw sales to 785,006 units in 2017. Its monthly sales, which ranged from 70,000 to 140,000 vehicles previously, declined to some 35,000 in April 2017.
Fortunately for the company, sales have been showing signs of a recovery since late last year, rebounding to 120,638 units in December. Although sales plunged again in January (60,010 units) and February (35,595), Hyundai hopes that new vehicles, led by the Encino, to boost sales, as the two countries are expected to address the diplomatic friction.
The subcompact SUV market is the most rapidly growing segment in the Chinese car market. A total of 211,000 units of five subcompact SUV models were sold in China in 2013. Last year, there were 16 models that sold 676,000 units.
Some experts blamed Hyundai's slump in China not only on the diplomatic row but also on the company's insufficient sales strategy. They pointed out that despite the explosive growth of China's SUV market, Hyundai remained focused on sedans. It seems to be against this backdrop that Hyundai has introduced the Encino to the Chinese market. The company plans to target younger consumers in their 20s and 30s who prefer small SUVs as their first cars. "Although the competition is expected to be fierce as demand is slowing down in China, we will seek to expand sales by introducing various new cars," a company official said.
Eun-Taek Lee nabi@donga.com