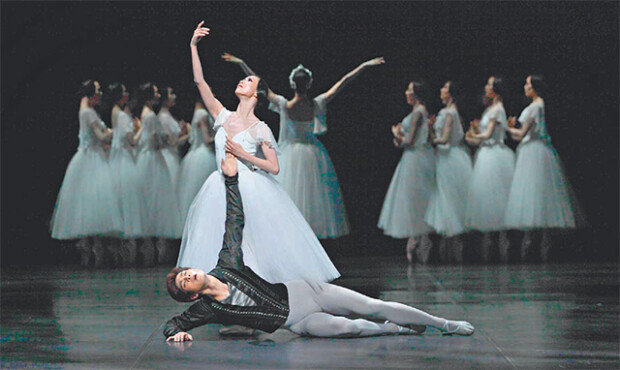 This March and April are slated to be the season of festivity for all ballet fans in Korea. The country's two prominent ballet companies, the Korean National Ballet and the Universal Ballet Company, will both present "Giselle," known as one of the greatest romantic ballet pieces.
It may be the same "Giselle," but the two companies' different interpretation of the piece will delight the audience. The Korean National Ballet's "Giselle," which is to be held at the Opera Theater of the Seoul Arts Center from March 21 to 25, has been choreographed by Patrice Bart, former ballet master at the Paris Opera Ballet. Meanwhile, "Giselle" of the Universal Ballet Company, which the company will feature in four years from April 6 to April 15 at the Universal Arts Center in Seoul, is based on the choreograph of Russia's Mariinsky Ballet Company.
The highlight of "Giselle" comes during Act II, when the Wilis, the spirits of virgin girls that died before they married, fill the stage with a fascinating dance, haunting the forest at night to seek and force any man they encounter to dance to death. Both Kang Sue-jin, director of the Korean National Ballet, and Moon Hoon-sook, general director of the Universal Ballet Company, have chosen the Wilis' group dance as the climax of "Giselle," saying that it is "so crucial that it determines the success of the performance." Indeed, the corps de ballet dance of "Giselle" is considered an exemplary "ballet blanc," along with the scenes in "La Bayadere" and "Swan Lake."
Accordingly, both ballet companies have paid great attention to their corps de ballet dance, allowing it to take up 30 minutes of the total 55 minutes of Act II. This is why Act II is practically the stage of the corps de ballet dancers, not a main character Giselle. Twenty-four and 18 corps de ballet dancers will perform on stage from the Korean National Ballet and the Universal Ballet Company, respectively. "Giselle" also has more diverse group dance compositions than other pieces, including a diagonal line, which appears most frequently, and a circular, a six-rowed, or an eight-rowed line.
Jeong-Eun Kim kimje@donga.com