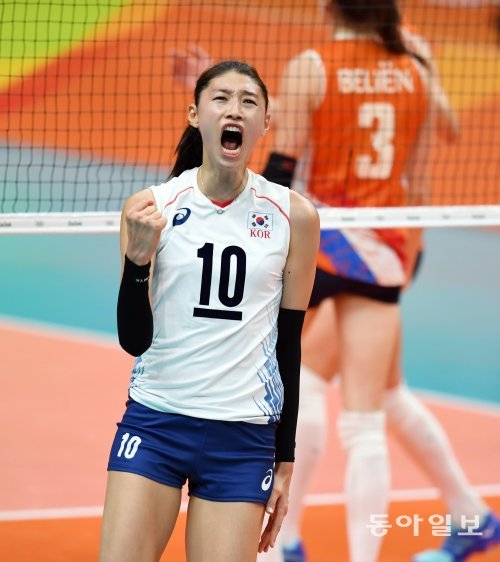 Can "volleyball queen" Kim Yeon-koung bring her team to the championship match? The Shanghai Women's Volleyball Team, which Kim currently plays for, won 3-0 (25-18, 25-22, 25-21) against Jiangsu Zenith Steel on last Friday in the third round of the China Women's Volleyball playoffs held at the Chenzhou University Gymnasium. With the victory, Shanghai is leading the best-of-five play-off series 2-1 against Jiangsu. They have one victory left to the championship game. Although Kim was not in good harmony with her team's setter that day, she scored the highest points of 18 with her teammate Zeng Chunlei.
Shanghai, which had finished first in the regular league, got off to a bad start in the playoffs, losing their first game. An easy victory was expected for Shanghai over Jiangsu, which ranked 4th in the regular league. But Jiangsu got more competitive after scouting two members of the national team before the playoffs.
With Kim Yeon-kyoung playing a pivotal role in the playoff matches, however, Shanghai could regain its position as the No. 1 team in the league. In the second round, Kim scored the highest point in the team (20 points), leading her team to a 3-2 come-from-behind win after losing first two sets in a row. Carrying the momentum, Shanghai won a complete victory in the third round.
"I thought the match against Jiangsu would not be easy since they had scouted two great players. But I believed in my teammates and prepared to win the game," Kim said after the third round. "I hope we finish the game in the fourth round."
Bae-Jung Kim wanted@donga.com