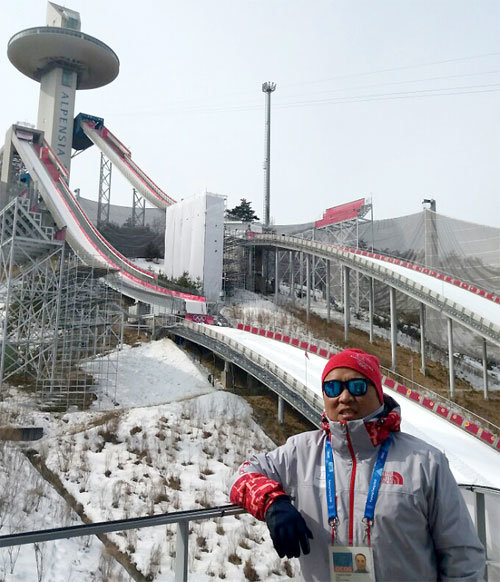 "To me, they flied better than anyone else," Park Jeong-min, 45, weather forecast analyzer of the Korea Meteorological Administration, seemed excited after watching up close the final round of the Korean Men's ski jumping team Monday.
The Judge Tower, where Park works during the PyeongChang Winter Olympic Games, is located right beside the ski jump hill, making it possible to see the take-offs and downhill races of the athletes. "I went out to the terrace despite the cold weather to see the athletes closer," said Park. "Regardless of the records, Korean ski jumpers are my heroes."
The Korean ski jump team ranked 12th in the first round, failing to make it to the final round, where top eight out of 12 teams compete for the medals. But they did realize their dream of "flying as a team."
Park's official title at the Olympics is analyzer for the PyeongChang Winter Olympics Ski Jump Weather Information Center. He and other analyzers took turns during the past two weeks to provide weather forecast for the training and games for ski jumpers. The three meteorological instruments installed at the in-run, take-off and landing points help forecast instantaneous wind speed and direction of the wind based on the measured values.
"As a weather forecast analyzer, I was under so much pressure since the weather forecast at the ski jump competitions should be made at every second while ordinary weather forecasts are made every one or two hours," Park said.
After the finals of Nordic Combined (Ski jump + Cross country), which will be held on Thursday, Park will leave ski jump games for snowboard big air. "It was an honor to see the real characters of the movie 'Take Off' actually fly at the Olympics," Park said. "I will root for Korean players at snowboard big air games."
Mee-Jee Lee image@donga.com