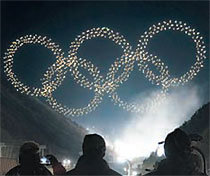 Drones, that looked like fireflies individually, lit up the night sky as a giant dove, symbol of peace. Then they morphed into the shape of a snowboarder racing down a slope, and then into the Olympic rings. Serving as the highlight of the opening ceremony, the drone show drew admiration and praise from global audiences who commented that they "couldn't believe it" and "it looked like computer graphic (CG)." The latest show featuring 1,218 drones flying in sync has set a new Guinness World Record.
There was only one person behind the drones, which embroidered the night sky with LED lights. A staff who was called a "pilot" pushed a start button of a computer program, which would then begin the pre-designed show. Three monitoring staff members observed the status of each drone during the flight. For the latest drone show, Intel-made "Shooting Star" drones and the company's technology were utilized. The U.S.-based chip giant had also successfully performed a show with 300 drones, creating an American flag in the sky at Lady Gaga's Super Bowl halftime show last year.
The show was not a live version, though. TV audiences were shown the pre-recorded footage from December in Pyeongchang during the live broadcast. Pyeongchang's weather was the main reason behind the company's decision not to put out a live performance. Each drone was designed to check the location of nearby drones in real time with the attached GPS and cameras. The drones were also programmed to maintain a proper distance between themselves even when winds blow. Yet, a lithium-ion battery used for the drones is known to have lowered performances at low temperatures. Intel replaced the rotor blades of its Shooting Star drones to overcome Pyeongchang's strong winds and cold weather.
Currently, China's DJI is taking the lead in the global drone industry. Still, precise flight is a whole other area that requires advanced technologies in sensors as well as real-time communications and self-controlling systems, which are linked to the core technologies of autonomous vehicles. This is why Intel established a drone team. In Pyeongchang, not only drones but other state-of-the-art technologies including 5G and VR are being vigorously showcased. When Olympians are sweating to overcome their physical limits, businesses are also fiercely competing to go beyond technological limits.
Jin-Kyun Kil leon@donga.com