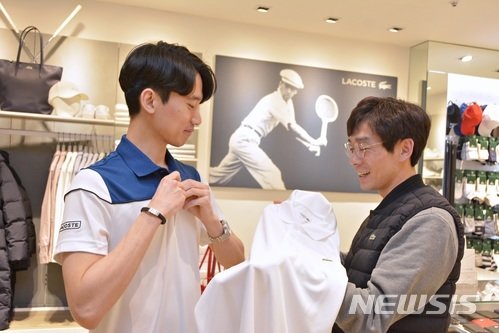 Chung Hyeon's surprisingly unexpected rising at the Australian Open, which is one of the big four tournaments, is grabbing headlines of media including The New York Times and CNN. The 21-year-old Korean tennis player has been praised for his potential and even compared to Novak Djokovic of Serbia whom Chung defeated in the round of 16. Chung was hardly known among fans before the game, but things have changed upside down for him.
Chung is one of the most talked-about players in the tennis world with his remarkable performance on the tennis field. As ATP ranking of professional male tennis players is calculated with scores based on performance, it is challenging to win against players with a much higher ranking. In this context, the winning of Chung, ranked No. 58 in the world, against Djokovic, ranked No. 14, is a rarely exceptional case.
Chung has become the first Asian tennis player to advance to a semi-final of the Australian Open. His rising and popularity put him on a list of names to foster a new wave in the tennis world. Chung won the Next Generation ATP Finals tournament for the best young players in 2016. Eight top ranking players under the age of 22 participated, and Chung defeated many rising stars including Andrey Rublev of Russia, ranked No. 32 in the world.
Roger Federer and Djokovic gave a fresh eval‎uation of fresh faces on the stage. After winning the quarterfinal Friday, Federer said, "It's great to see new names on the scene. Tennis will always create new stars. And the way both (Chung and Kyle Edmund) made it to the semis is highly impressive."
"There's a big difference. Obviously he's physically stronger. Also, mature. I think he has had some big matches in the last 15 months on the big stage. I think that helps to build a confidence and experience, to know what to do in deciding moments," Djokovic said after the match with Chung. "He definitely has the game to be a top-10 player, without a doubt."
Jae-Hyeng Kim monami@donga.com