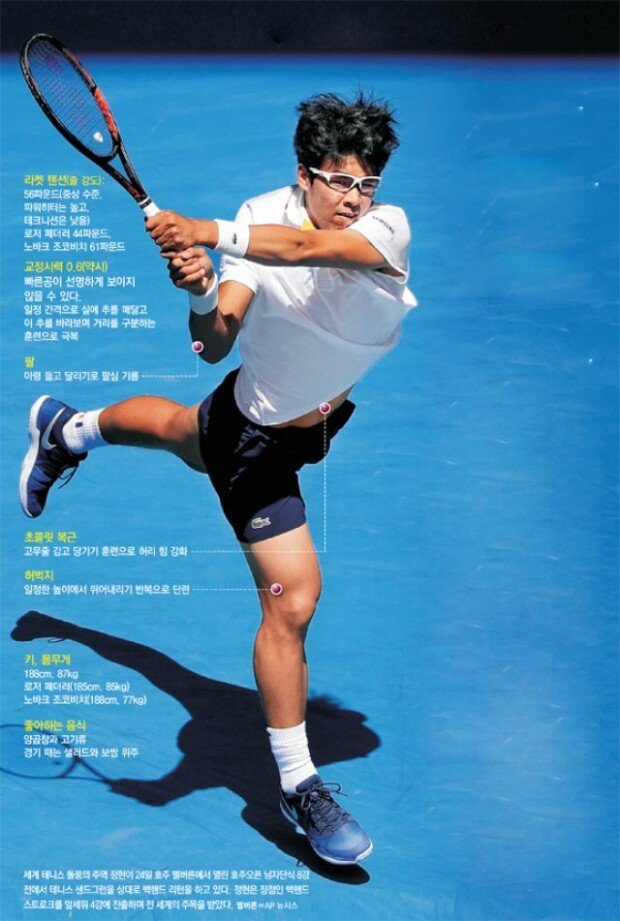 Chung Hyeon is writing a new chapter in the history of Korean tennis. The 21-year-old, ranked 58th in the world, advanced to the semifinals after beating Tennys Sandgren, a 97-ranked American player who was also considered as a "bottleneck," at the Australian Open quarterfinals of men's single match by 3 to 0 (6-4, 7-6, 6-3) on Wednesday. This is the first time for an Asian male player to reach the Australian Open semi-finals since Japan's Jiro Sato in 1932.
Chung, the first Korean to play at the quarterfinals of a Grand Slam singles tournament, is now challenging himself to make a record as an Asian player. Japan's Kei Nishikori, the 2014 U.S. Open finalist, established the best record for an Asian player in a major league.
Before Chung Hyeon, Lee Deok-hee (1981 U.S. Open female single) and Lee Hyeong-taek (2000, 2007 U.S. Open male single, round of 16) recorded the best score for a Korean player in major tournaments.
As Chung, who created a whirlwind of change at the Wednesday tournament, earned 880,000 Australian dollars (about 756 million won), he has received 1,709,608 U.S. dollars (about 1.83 billion won) of rewards from various tournaments up until now.
Chung is also expected to break the record in the tennis history of Korea. He has acquired a sum of 1,472 points by adding 615 points from Wednesday's victory. Accordingly, even if Chung loses in the semi-finals, he will likely rank at least 29th place in world rankings, which will be announced by ATP next week. The best record up until now was 36th place, which was established by Lee Hyeong-taek on August 6, 2007.
Chung will face the winner of a match between Roger Federer, ranked 9th, and Tomas Berdych, ranked 20th, Friday afternoon.
Jae-Hyeng Kim monami@donga.com