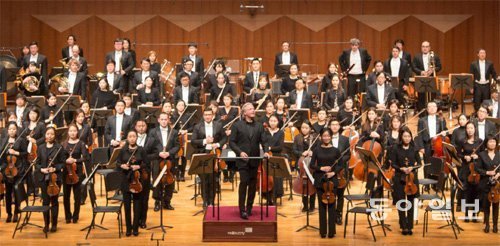 One of the things beginners to classical music wonder is "how to appreciate it properly." This book "Symphonies-Guide for Listeners" calls itself a "guide" to classical music, as it introduces 82 classical symphonies of 18 composers, ranging from Bach to Shostakovich. Some of the symphonies, such as Beethoven's Symphony No. 3 "Eroica" and Symphony No. 9 "Choral," are familiar to us, while others, such as symphonies by Nielsen and Shostakovich, are less familiar.
Author Choi Eun-kyu majored in violin at Seoul Arts High School and Seoul National University. After graduation, he played for Bucheon Philharmonic Orchestra for 10 years and currently is writing columns and reviews for music magazines and daily newspapers. The author not only knows a lot about symphonies but also has experience of playing them.
In the book, there is consideration for beginners to classical music. For example, when explaining about symphonies by Beethoven, the author also gives details about the circumstance the composer was in and how the music was accepted by the public by quoting comments of critics and musicians at that time.
In addition, the book selects a music record, which is popular and easy to get, for every symphony so that readers can listen to the melody, harmony and special sound of the symphonies explained in the book. Readers are able to understand the music better if they read the book and listen to the music at the same time.
The book not only teaches readers about composers and their music but also about Western music history. The writer tries to refrain from offering abstract description, but gives important points and clues to help better understand the music, providing a chance for readers to create their own ways of enjoying the music. Just like the book calls itself a guide, it faithfully serves its role of being a guide to symphonies.
Dong-Wook Kim creating@donga.com