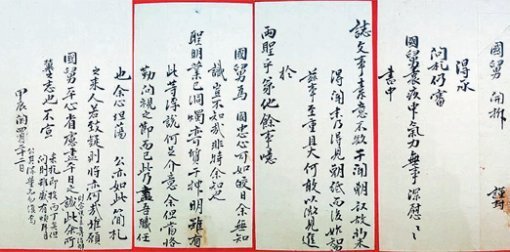 "Please burn this letter as soon as you receive."
Secret letters written by King Yeongjo of the Joseon Dynasty (1694-1776) when he was a royal crown prince were recently discovered. The recipient of the letters is Eo Yu-gu (1675-1740), father of Queen Seonui, who was the wife and Queen Consort of King Gyeongjong of Joseon.
Eo Hwan, professor of School of Medicine at Sungkyunkwan University and the eighth-generation descendant of Eo Yu-gu, confirmed the contents of the letters, which have been kept by his family, and disclosed the photos to the Dong-A Ilbo. A total of four letters were found out while the two of them have been revealed for the first time in history. These two are highly likely to have been hand-written by then royal crown prince Yeongjo in 1724, the fourth year of King Gyeongjong's reign. The other two letters were later copied by Hong Jik-pil either wholly or partially in his anthology named after his penname "Maesan."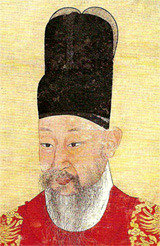 "I (Yeongjo) refer myself entirely to Sir (Eo Yu-gu)."
Written by Yeongjo in one of the letters, this sentence depicts a so-called "hot line" between Yeongjo and Eo Yu-gu, with the former being a royal crown prince with a precarious position and the latter being thethen king's father-in-law. Yeongjo experienced severe insecurity as a royal crown prince. The Noron (Old Doctrine) faction had pressured King Gyeongjong to install his younger brother Prince Yeoning (the future King Yeongjo) as royal crown prince, and claimed that Prince Yeoning should act as regent, but was attacked by the opposing Soron (New Doctrine) faction. This led to a great massacre, namely the Shinim literati purges, in which around 60 bureaucrats including four Norons lost their lives and around 170 people were exiled. Almost all Norons who were behind Yeongjo were swept from power, and Yeongjo himself was accused of "making contact with a rebel who attempted to assassinate King Gyeongjong."
"You can see that Yeongjo tried to win Queen Seonui and her father Eo Yu-gu over to his side as closely as possible after he saw Norons brutally executed," said Choi Sung-hwan, a researcher at Suwon Research Institute who received a doctor's degree with his research of the political history of King Yeongjo and Jeongjo, after taking a look at the letters.

The letters unlock one of the mysteries lying in the political history of King Yeongjo and Jeongjo. During the reign of King Yeongjo, the descendants of the four Norons who were executed during Shinim literati purges continuously made an issue of Eo Yu-gu's behavior saying that Eo, one of the core members of the Noron faction, seemed to be conspiring with the opposing Soron faction during the reign of King Gyeongjong. Such claims were always met with King Yeongjo's shield of Eo, and nobody knew the reason he defended Eo until recently.
Jong-Yeob JO jjj@donga.com