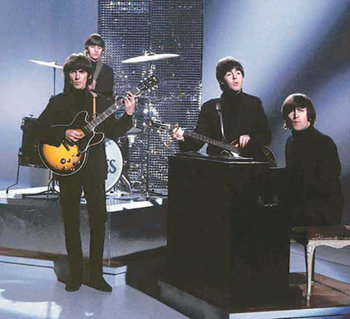 A few months ago, a few CDs were stolen at a broadcasting station as a producer lost his employee card at work and someone borrowed CDs at the library of the station using the card. A small accident, which could have been forgotten, turned out to be a major one.
The thief stole only a few CDs using the card. Many of them were those of AC/DC, an Australian rock band. Back then, AC/DC's entire albums were not allowed for streaming service in Korea." Though theft is bad, I'd like to highly praise the thief's passion for the origin of rock music in times like this,"a producer said with a bitter smile.
Surprisingly, AC/DC and Led Zeppelin recently started to come online in Korea. Not long ago, they had not allowed music streaming in the world along with the Beatles. They must have had a sense of pride, believing that fans should buy a CD to listen to their music or at least pay the price for downloading.
The Beatles, which seemed to be the last one to accept the change, has started on-demand streaming service at major music service providers such as Apple Music and Spotify for the first time in the world on Christmas Eve. Everyone can listen to "Yesterday" and "Lucy in the Sky with Diamonds" anytime and anywhere with just one click. Some say that the Beatles` decision represents the sad change of the collapsed music industry. As the majority of music revenues are now from streaming service, the Beatles had no choice but to change.
Of course, not all singers have surrendered yet. British rock band King Crimson is expected to be the last one that would not yield to online streaming like the band's mysterious music. How prognostic is "21st Century Schizoid Man," the band's famous first song of its debut album? It is also the nickname of the band's leader Robert Fripp.
Even before tearing open the CD "1+," the recent collection of the Beatles' hit songs, I played "A Day in the Life" in Apple Music. While being grateful for "one click," I was relieved that some of the band's albums were not included in the streaming service.
imi@donga.com