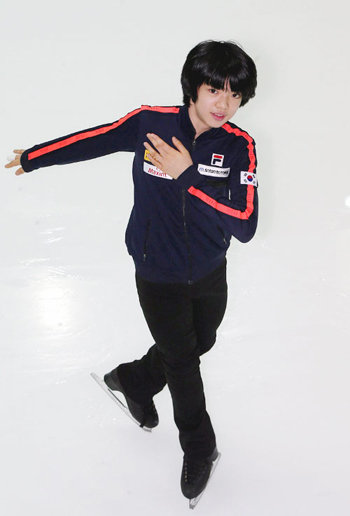 Since the emergence of "Figure Queen" Kim Yu-na (25), Korean figure skating has made astonishing strides. The number of skaters has increased, and some skaters have won medals at international competitions. However, this phenomenon was only limited to female single competitions. The number of skaters in male single competition did not increase, and few players stood out on international stage.
Things have completely changed, however, following the emergence of Cha Joon-hwan (14, Hwimoon Middle School). At the 2015 National Figure Skating Championship held in Seoul on Tuesday, Cha won the title with an overall score of 220.40, the highest score ever in Korean men's single figure skating competition. He surpassed the previous record (209.90) by 10.5 points as he displayed a perfect triple axel jump, which had been considered one of his weaknesses before.
In Toronto, Canada from March to November, he received intensive training sessions from Brian Oser (54, Canada), who served as coach for Kim Yu-na. "I gained confidence in jumps after finishing an overseas training camp in Canada," Cha said at Taeneung Ice Rink in Seoul on Tuesday. He practiced not only triple axel jumps but also quad jumps, which is essential for a top-rated figure skater. He would wake up at 6 a.m. and return home at 10 p.m. "I have no hobby, and I have no idea what is in vogue these days. I just like exercising more than anything else," he said. "Cha Joon-hwan has endurance and is highly receptive. He is also quite talented. If he manages to pass his puberty period without suffering injury, he may be able to win a medal at Olympics," said Coach Shin Hye-sook who had taught Kim Yu-na.
He also enjoys popularity due to his good look. He already found fans in Japan. He served as actor and he learned figure skating to perform diverse characters as actor. "I engaged in entertainment field and appeared in commercials, but figure skating is my favorite. I feel a sense of achievement when I successfully perform skills that I failed previously," Cha said.
KB Financial Group has recently decided to sponsor Cha. Athletes sponsored by KB, including Kim Yu-na, Son Yon-jae (21), and Choi Min-jeong (17), have grown to become world-class stars. "I want to participate at the 2018 Pyeongchang Winter Olympics, and display satisfactory performances," he said in renewing his commitment.
creating@donga.com