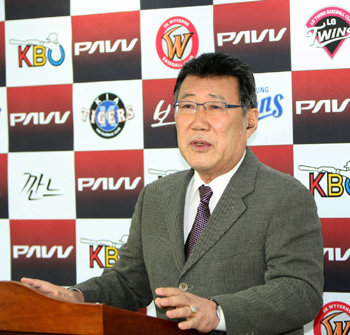 Baseball commentator Ha Il-sung (65, photo) had a building worth 10 billion won (8.65 million U.S. dollars) in Seoul`s affluent Gangnam area until four years ago. He was persuaded by Cho, a real estate agent, however, to sell the building after believing Cho`s saying that a large shopping center was going to be built near Ha`s building.
Ha trusted Cho, who told him that he would do the work for Ha. Ha then gave Cho his seal and all the documents needed for the real estate sale. The building was sold soon but Cho did not give Ha a penny.
Ha found it highly reprehensible but did not report it to the police. That was because he did not want to instigate rumors and accusing Cho would not return his money immediately.
In the meantime, Ha became a defaulter of the transfer tax among other taxes worth one billion won (865,052 dollars). It was beyond his income especially when he was not able to appear on television programs. Borrowing loans from banks was difficult as well. He managed to pay 600 million won (519,031 dollars) and the rest was paid through private loans.
He sold his house and car. The loan interest kept increasing, however. Loan sharks called Ha hundreds times a day, threatening his family.
That was when Ha borrowed money from his acquaintance Park (44). Ha told Park in November last year, "I could not pay tax worth 50 million won (43,252 dollars) because of the building I used to own in Gangnam. Please lend me 30 million won (25,952 dollars)." Park took out 600,000 won (519 dollars) as a future interest and gave Ha the remaining 29,400,000 won (25,432 dollars).
When Ha did not repay Park`s money after eight months, Park reported Ha for fraud in July this year. Ha appeared to the police and acknowledged all of his charges. Ha reportedly conceded, "I make around 12 million won (10,380 dollars) a month these days but it was not enough for my dept. That is why I could not fully pay back Park. The police indicted Ha for fraud and forwarded his case to the prosecutor`s office.
"We believe Ha was robbing Peter to pay Paul as the dept he owed was outrageous," a police officer stated.
kyu@donga.com