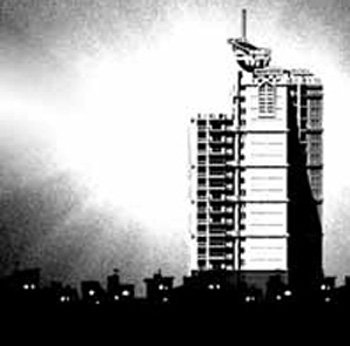 "I Live Alone" is an entertainment show capturing the daily lives of celebrities living alone. Unlike most members in the show living in an apartment, Yook Joong-wan, a member of the indie band "Rose Motel," lives in a rooftop house. Hwang Chi-yeol, a new member of the show, also lives in a rooftop house. Although the two men live in a cramped room, they enjoy a "humble life at a rooftop house" drying their laundry and barbeque at the rooftop.
A rooftop house is a common background of Korean dramas. A good example is "Oktapbang Goyangi (Attic Cat)," which had 40 percent ratings in 2003. The heroine who is from a poor family lives in a rooftop house with a clamorous night view which contrasts with a mansion where the hero lives.
The value of a rooftop is drawing attention. In many buildings, rooftops are used for a garden and a space for leisure and entertainment. "Haeundae LCT the Sharp," an 85-story apartment to be built in Busan, which will be the highest building in Korea, is the talk of the town. It has six penthouses. It hit a record high sales price of 70 million won (61,782 U.S. dollars) on per 3.3 square meters. The "244 square meter B" penthouse, two units of which were bought by two individuals at 6.8 billion won (6 million dollars), had a competition rate of 68.5:1.
Ultra-luxe "432 Park Avenue" newly built in Manhattan, the third tallest building of the U.S., was sold at 95 million dollars even before its completion of construction. Fortune magazine says this building is "a monument to the epic rise of the global super-wealthy" and "the house that historic inequality built." We live in an era of bipolarization, when the needy`s rooftop house and the super rich`s penthouse coexist, with the widening wealth and income inequality gap.
mskoh119@donga.com