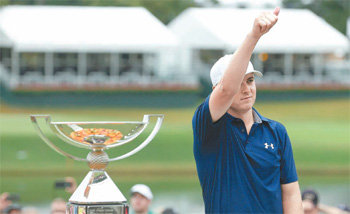 American youngster Jorden Spieth (22) has become the winner of the PGA Tour Championship after all.
In the Tour Championship, the finale of the PGA Tour playoffs, at the East Lake Golf Club (par 70) in Atlanta, Georgia on Saturday, Spieth won the title with seven-under 271 overall, becoming the youngest ever winner of the PGA Tour playoffs. Spieth, who won major titles the Masters' and the U.S. Open, has garnered five wins, the most won by a player in this season, to recover No. 1 spot in the global rankings.
Spieth earned 1.485 million U.S. dollars in purse money in the latest championship, to rake in 12,030,465 dollars in total in this season, setting a new record in total prize money earned in a single season of the PGA tour. Spieth also received 10 million dollars in bonus that is awarded to the ultimate winner of the playoffs.
Spieth is the most promising candidate for the Player of the Year award in the PGA tour, who will be announced on October 3.
creating@donga.com