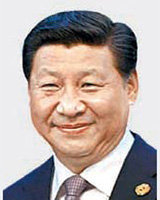 Chinese President Xi Jinping is paying his first state visit to the U.S.
Citing sources, the Hong Kong daily South China Morning Post said on Wednesday that Xi will start his official tour to the U.S. in Seattle on September 22, and conclude the visit by delivering a speech at the U.N. General Assembly in New York on September 28. The Chinese government has yet to make official announcement on the itinerary of Xi's U.S. tour.
It is the first time that the leaders of China and the U.S. will hold a summit in Washington since Xi's inauguration. Xi's first visit to the U.S. in June 2013 took place at a resort in California, and it was not a state visit.
President Xi will hold an event by inviting executives of major U.S. IT companies including Apple, IBM, Google and Facebook in Seattle on September 23. The event will be attended by Jack Ma, the chairman of Chinese e-commerce company Alibaba, and Li Yanhong, chairman of China's largest Internet search engine Baidu.
The Chinese leader will also attend a roundtable meeting hosted by U.S. Treasury Secretary Henry Paulson, and meet with CEOs of IT companies. He will also likely meet with Microsoft co-founder Bill Gates.
Xi will attend dinner hosted by U.S. President Barack Obama in Washington on September 24. A U.S.-China summit will take place on the following day, the Japanese business daily Nihon Keizai Shimbun reported on Wednesday. The leaders are expected to widely discuss sensitive issues including territorial dispute in South China Sea, and U.S. economic sanctions against Chinese hackers. Experts say that the two heads of states will seek to find areas for cooperation, but will fail to find significant breakthroughs.
Professor Jacque deLisle at the University of Pennsylvania told the South China Morning Post that at last year's summit meeting in Beijing, the two countries made more-than-expected achievements, including agreement on climate change, adding that since the two nations are in fierce dispute in many areas this year, it will be difficult to drastic compromises.
pen@donga.com