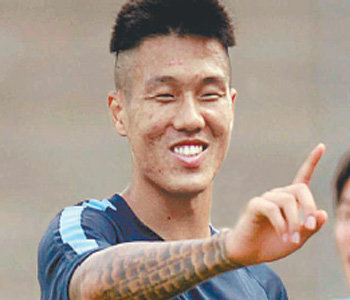 Up for the second preliminary match in Lebanon on Tuesday for 2018 FIFA World Cup in Russia, Korea's national football team needs a "killer for Middle East" the most. Aiming to break the 22-year cursed jinx of tying the game at an away match in Lebanon (two ties and a loss), the team desperately needs to make a first goal to get a head start and quiet down a fanatic cheer of Lebanon football fans who often use laser beam for their support. This is the reason the killer who leads a single chance to the goal is needed.
Lee Dong-gook (North Jeolla Province) and Park Chu-young (Seoul) used to be particularly strong against Middle Eastern teams. Out of 33 goals in the International A Match, Lee made 10 in matches against Middle Eastern nations. Park who has made 11 goals from the games against Middle Eastern countries out of 24 goals in total, made a hat-trick in Lebanon match in 2011. "As the willpower of Middle Eastern players is relatively weaker, Korea's first goal would seriously demoralize them," Lee said stressing the importance of the first goal.
This time, Seok Hyeong-joon (aged 24, Vitória de Setúbal) and Hwang Ui-jo (Seongnam FC) will play up front to deal with Lebanon players. Making the A match debut goal in Laos, Seok is ahead of Hwang. Having played for Al-Ahli SC (Saudi Arabia) from the 2013-2014 season and made two goals (14 matches), Seok also has experience of Middle Eastern football. Hwang, on the other hand, has physical advantage as he only played for some 30 minutes in Laos while Seok ran 62 minutes. "Both have shown satisfactory performance," Korea manager Uli Stielike after the Laos match.
In the meantime, Lebanon team is said to suffer internal disturbance. The Daily Star, Lebanese English-language daily, has reported that some key players can't play for the match as they have either left the team due to discord with the manager or been excluded due to injury. "Even though Lebanon team is good unlike Laos team, Korea can win the game if it makes the most of its own playing skills on top of the confidence from the big win from Laos match," said Stielike who is formulating tactics for the match upon arrival in Lebanon on Saturday.
trigger@donga.com