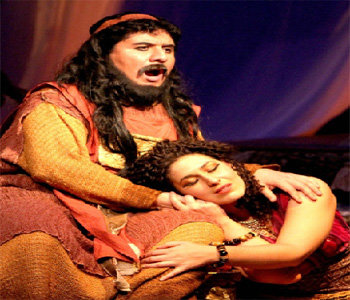 Hit white keys of the piano. Do-si-la-sol-fa-mi-re-do. Mix any of these notes and it sounds like a song. Now hit the black keys. It doesn`t hear like a typical song. Rather, it sounds like water being poured into a cup.
A concert hosted by Hanwha Life Insurance will be held September 10 at Seoul Arts Center in southern Seoul, where mezzo soprano Choo Hui-myeong, in collaboration with the Korean Symphony Orchestra conducted by Choi Seung-han, will sing opera arias including those of Mozart and Saint Saens. Among them are "Mon coeur s`ouvre à ta voix " of Saint Saens` "Samson and Delilah" and "Habanera" of Bizet`s opera "Carmen."
The two songs have several features in common. Both are opera arias written by a French composer. The title roles are both "femme fatale" who lures a man and ruins him. Finally, both songs are a chromatic style descending tone.
Both composers lived in the Romantic period where chromatic style melody was rarely used. Such style is also seldom used in folk songs around the world. Then why did these composers use this? Could this be related to the fact that the two heroines were femme fatale?
In "Samson and Delilah," the chromatic style melody was used at a scene where the heroine lures the hero, and in "Carmen" when a gypsy woman attempts to catch a man`s eye. Delilah was an heathen Philistine who entices Samson who`s an Israeli in Old Testament, while the title female role at "Carmen" is a Spanish gypsy. The two works have common code of "temptation" and "exotic."
Now sit in front of the piano again and hit the descending chromatic scale one at a time starting from "do." Listen to it and you will feel something exotic rather than a sense of familiarity, and secrecy and captivating rather than frankness. No composer wrote this on the music book but one can feel it unconsciously. This is the power of convention and tradition.