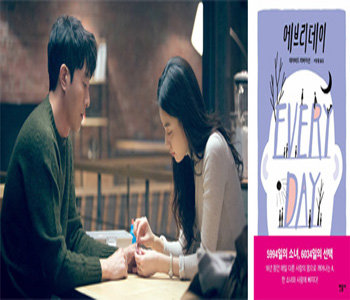 American novel "Everyday," which was recently translated into Korean and published, has a similar storyline with the Korean movie "Beauty Inside" released last week. "Everyday" is a story about "A," a teen who wakes up every morning in a different body and living a different life. "A" is a cheerful boy who loves soccer, who the next day becomes a pretty black girl, and the following day wakes up as an illegal under-age house maid. "A" then meets a girl named Rhiannon and falls in love with her.
"Beauty Inside" is a love story about a man who wakes up every morning to find himself become man, woman, child and elderly, and a woman who loves him.
While the two have similar stories of a man whose appearance changes every day, the novel isn't based on the movie. The film was taken idea from a joint ad made by Intel and Toshiba titled "The Beauty Inside" that was played in YouTube. "Everyday" was published in the U.S. in August 2012, and the online ad was also released around that time.
However, the publisher said the novel and ad have no relations to each other, adding while it's the hero's appearance that is only changed in the ad and movie, in the novel the hero personifies in a different body.
kimjy@donga.com