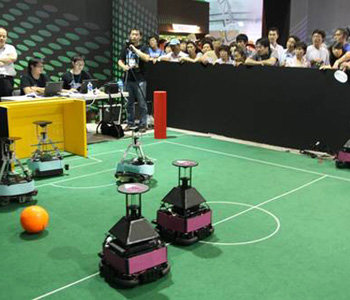 The fourth robot convergence festival, the largest of its kind in Korea, will be held at Daejeon Convention Center and Daejeon Trade Exhibition Center from August 4 through August 9.
Hosted by Daejeon City and Daejeon Techno Park, and sponsored by the Trade, Industry and Energy Ministry, Korean Intellectual Property Office, Daejeon Metropolitan Office of Education and Korea Institute for Robot Industry Advancement, this year`s event will be held under the topic of "creativity, enthusiasm and challenge." Two international competitions, nine national competitions, various exhibition experiences as well as academic and business exchanges will be held. The number of contesters stands at 6,790 people (in 39 categories and 117 subcategories), the largest figure ever.
The Daejeon City government expects the number of spectators to reach 40,000 this year. The highlight will be the "2015 FIRA Robot World Cup," a football game between robots, which will be held from August 4 to August 9 at the Daejeon Convention Center. In its 20th year, the competition was created by KAIST Professor Kim Jong-hwan. Since launching in 1996 in Daejeon, the event has been held in the U.K., the U.S. and Australia. Sixty one teams from 15 countries will contend this year for the trophy in six categories including MiroSot, NaroSot and SimuroSot, and in 15 sub-categories.
Domestic competitions where participants will struggle to grab a ticket for the International Robot Olympiad will open from August 4 through August 13 at the Daejeon Convention Center, with 4,500 contesters joining. The 2015 international teenager robot competition hosted by the International Teenage Robot Federation will be joined by 300 people from 12 countries including Korea, Russia, China and the U.S.
Colleges including KAIST, Chungnam National University and Mokwon University are also hosting various competitions. For example, KAIST will open an intellectual SoC robot war competition, Korea`s largest intellectual robot competition, from August 6 through August 8.
Daejeon City is also preparing various events, including "Robot family drone contest," a family relay racing competition, for both domestic and foreign people visiting Daejeon. Other events include "local firms contest," "robot family robot movie festival" and "science culture experience."
doyoce@donga.com