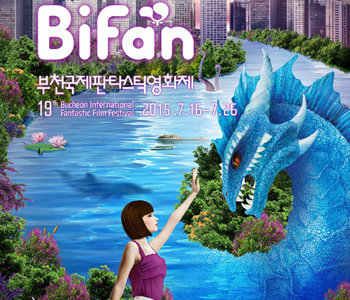 Movies of "fantastic" features including fears, grotesqueness, suspense and action, which fans cannot experience in real world, are coming in droves.
The 19th Bucheon International Fantastic Movie Festival (BiFan), which will take place on July 16 – July 26, will showcase 235 movies under the theme "Love, Fantasy and Adventure" from 45 countries. The opening film is the French movie "Moonwalkers (director Antoine Bardou-Jacquet) and the closing work will be "The Chosen: Forbidden Cave" by Kim Hui.
Special exhibitions include a collection of Chinese actor Simon Yam, Mexican Genre Film, and a special exhibition of maestro director Sion Sono of Japan.
Simon Yam is an actor who is well known among Korean fans due to his starring as "Chen" character in the Korean movie "The Thieves (2012)" directed by Choi Dong-hoon. To be showcased at the event are five of his movies including "PTU (2003)," and "Election (2005)" picked by himself, and "Tales from the Dark (2013)" through which he made debut as director. Yoo Ji-seon, programmer of the festival said, "Fans can confirm the image of "Nice Guy" the unique image performed in movies by Simon Yam, who is representing Hong Kong noir movies."
One of the most notable trends is the rise of Mexican genre movies. "Bird Man" (Alejandro González Iñárritu), "Gravity" (Alfonso Cuarón Orozco), and "Pacific Rim" (Guillermo del Toro) were all directed by Mexican directors. A total of eight movies that will give an historic overview of Mexican genre movies will be presented, including "Poison for the Fairies (1986)," and "Pastorela (2011)." Among them, "Honeymoon (2015)" is a latest release and tragic story, in which a woman who is dreaming about honeymoon with his love gets kidnapped by another man who is having crush with her, and undergoes suffering. Programmer Lee Sang-ho said, "We intend to look into the potential of Mexican movies through the past and present of Mexican genre movies."
Director Sono made a history in the Japanese movie community by presenting sensitive themes such as suicide, death and incest through his unique voices. Eight of his movies will be showcased including "Suicide Club (2002)" which shocked Japanese society through collective suicides by 54 high school girls, and "Love Exposure (2008)." In the move "Tag," a new release of this year, a bus carrying high school girls gets cut in half in an accident which kills 40 girls. This gives fans to examine director Sono's unique character of resistance. Fans can reserve tickets at the festival's website (www.bifan.kr). Additional tickets for the opening and closing films, for which tickets have been sold out, will be put on sale at 2 p.m. on Friday.
wanted@donga.com