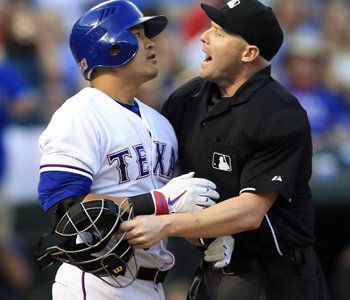 At the Major League Baseball, a manager almost never blames a player on the spot when the player makes a mistake. In this light, the fact Texas manager Jeff Banister went to Choo Shin-soo (33) and asked "What the happened?" in the middle of the game on Thursday was quite unusual.
Choo, who played right fielder in the away game against Oakland on the day, threw the ball directly to the third base to oust the runner who was heading to the third base, when a hit flew towards him, with one out and one runner on the first base in the eighth inning, with his team leading 4-2. Banister pointed out that Choo should have thrown the ball to a cutoff man rather than directly throwing it. Banister thus claimed only then Choo could have tied both the batter and the runner in the first base with the aim of garnering a double play.
In an interview after the game, Choo repeated the words "not comfortable" four times, and refuted Banister's criticism. Gerry Fraley, a veteran baseball correspondent with the local daily Dallas Morning News, also criticized Manager Banister in a blog post, by quoting Choo's remarks "Do you mean we lost the game because of me?"
Meanwhile, Texas only had one hit and ended up losing the game 0-7 on Friday. Choo had one strikeout, and garnered no hit in four times at bat.
Ahead of Friday's game, Banister said, "I am in good terms with Choo Shin-soo. I trust what Choo does on the ground, and everything he tells me. He is one of the players who is most enthusiastic about victory," in a gesture to mend ties.
moonsy1028@gmail.com