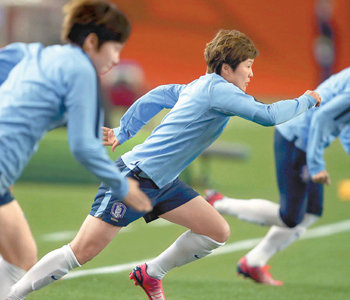 "We will not step back. We'll to our best" (Head coach Yoon Deok-yeo, Korea)
"We are the best." (Head coach Vadao, Brazil)
On Tuesday, one day ahead of the 2015 Women's World Cup's Group E first round, Korean head coach Yoon Deok-yeo said at an official press conference, "Korea has advanced to the finals for the first time in 12 years. We have prepared the best we could." Brazil, which won Korea 3-0 at the 2003 Women's World Cup in the U.S., currently ranks seventh in FIFA.
"Brazil is judged to be the best in our group. Besides soccer star Marta who is called "Pele in skirts," many other players have good skills and scoring capability," Yoon said. "We need to strengthen organizing capability. Much will depend on how we make the most of the chances that come to us." The coach said he has high hopes on Ji So-yun (Chelsea Ladies) and Cho So-hyun (Incheon Red Angels).
Marta, who was picked as No. 1 player to look out for, said, "Our goal is to win at World Cup." Brazil head coach Vadao said, "We have much analyzed Korea's warm-up matches. In particular, Korea was good in defense and overall balance against the U.S. team," adding, "As it did against the U.S. team, the Korean team will try to block our players throughout the whole 90 minutes. We must win Korea to advance to the round of 16."
Ahead of Korea-Brazil match on 8 a.m. Wednesday (Korean time), betting firm William Hill offered 1.44 odds on Brazil and 6.50 on Korea. The lower the figure, the higher the probability of winning.
creating@donga.com