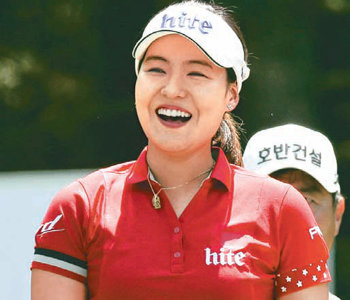 "It hurts so much that I wake up instantly due to pain while sleeping. I feel like I am suffering severe ache all over my body."
When Jeon In-ji, 21, was talking to this reporter over the mobile phone, her voice sounded very weak. This happened when the reporter interviewed her when she was participating at the Pro-Am championship on Wednesday, ahead of the E1 Charity Open of the Korean LPGA tour that will kick off at Phoenix Spring Country Club in Icheon, Gyeonggi Province on Friday.
Jeon won the Doosan Match Play Championship title over the weekend after completing a highly intense race of golfing at 36 holes for two consecutive days. Since she has been participating in competitions in Korea, the U.S. and Japan for 12 consecutive weeks lately, she has seen her stamina completely depleted, and hence decided to skip the Lotte Cantata Open in Jeju next week.
Although she is so fatigued that she can hardly keep balance when standing, she seemed to be mentally relaxed, because she is enjoying the zenith of her career this season. She has had two wins in six KLPGA tour championships, and became the first player to top 400 million won (362,000 U.S. dollars) in combined prize money. She ranks first both in purse money (406.6 million won) and average pars (69.94) she has achieved. She even acquired the major title at a Japanese tour championship, which she attended as an invited golfer.
Jeon said, "I am doing well in general from the tee box to the green. More than anything, I apparently regained confidence after correcting bad body postures that I make when putting." Jeon has an average number of putting at 28.94 per round this season, ranking top in the category as well. On the golf course for the upcoming championship, Jeon commented, "Though the entire length is short, it could be tricky to shoot depending on the location of the pin due to wide fluctuations on the green. A professional golfer should overcome, rather than meticulously gauging whether the golf course in question fits me or not."
Jeon is enjoying immense population, as evidenced by the sheer number of her fan club members that now exceeds 3,100. She said, "The existence of my fans, who always stand by me when I play well or bad, gives a big boost to me. So, I come to focus all the more." On how to manage her physical stamina, she said, "I always try to sleep whenever there is a chance because I don't take enough sleep. Sleeping is the best medicine. I am eating three to four kiwis per day to acquire vitamins," smiling.
Meanwhile, Goh Jin-young, who is tying Jeon by garnering two wins this season, declared boycott of the upcoming event due to eye inflammation. Ahn Shin-ae, a good-looking golfer who has been receiving treatment after suffering a cut in her right knee due to a golf cart accident ahead of the season's opening, will return to golf course to make a comeback.
kjs0123@donga.com