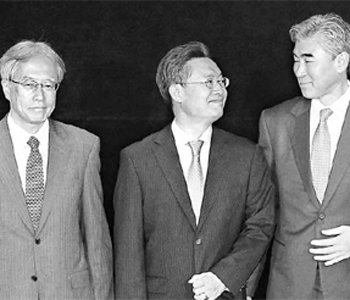 South Korea, the United States and Japan have agreed Wednesday to step up pressure and sanctions on North Korea following Pyongyang`s repeated provocations without responding to an offer by the three countries, China and Russia to hold dialogue. In particular, the three allies reportedly intend to put the North`s human rights issue at the forefront of their pressure on Pyongyang. Also drawing attention is whether China, the chair country of the six-party talks on denuclearizing the North, will cooperate.
Top nuclear envoys of the South, the U.S. and Japan met in Seoul on Wednesday, concurring on such an approach. "In order to deal with it, we had concrete talks on ways to make sanctions more effective by putting stronger pressure on the North and deter provocations," Hwang Joon-kook, Seoul`s senior diplomat in charge of North Korea affairs, told reporters after the meeting.
Sung Kim, Hwang`s U.S. counterpart, also said that the three envoys agreed on the importance of cooperating with the international community in order to correct the dire human rights situation in the North. Hwang noted that chief nuclear envoys from the five countries would deal with the North`s human rights issue. During his recent visit to Seoul, U.S. Secretary of State John Kerry also stressed the need to improve the human rights situation in North Korea.
Consequently, there will likely be brisk international discussions of North Korea`s human rights issue at the U.N. level. Last year, the U.N. Security Council agreed that the issue could be put on its agenda any time and pave ways for taking it to the International Criminal Court.
The U.S. envoy said that the North had left them with no other choice but to strengthen pressure on the Pyongyang by rejecting all sincere diplomatic efforts.
However, China, which also has poor human rights conditions, remains lukewarm toward escalating pressure on the North.
Beijing is also uncomfortable about its consultations with Seoul, Washington and Tokyo being seen as containment of Pyongyang. It is why Wu Dawei, China`s top nuclear negotiator, plans to meet with his counterparts from Seoul, Washington and Tokyo, separately. Although both Hwang and Sung visit China on Thursday, Beijing has rejected a three-way meeting. Wu`s Japanese counterpart, Junichi Ihara, visited China before he came to Seoul.
Asked whether Beijing agrees to additional pressure on Pyongyang, Hwang said that China shares the perception and position with South Korea and the U.S. that the North`s nuclear development is intolerable.
shcho@donga.com