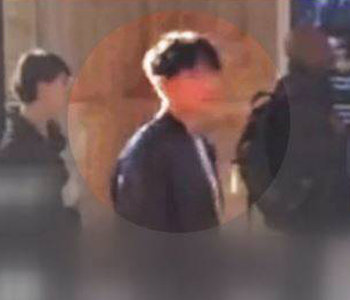 A man suspected as North Korean leader Kim Jong Un's brother Kim Jong Chul, 34, was captured by camera after a four-year of hiatus, according to the report by Japanese private broadcast network TBS on Thursday.
In a video footage released by TBS, a man suspected as Kim Jong Chul appeared in the Royal Albert Hall in London at 7 p.m. on Wednesday, when British rock and roll singer Eric Clapton's concert was scheduled. Wearing a leather jacket, Kim visited the concert hall with a young woman whose identity has not been known yet.
Citing foreign sources, TBS reported that the person was Kim Jong Chul, as he was seen in Beijing and Moscow, the two common transit cities from North Korea to London.
Kim Jong Chul, the late Central Military Commission Chairman Kim Jong Il's second son, is known as a big fan of Eric Clapton. Four years ago in February 2011, Kim was caught on camera of the press while he was visiting the British singer's concert hall in Singapore. At that time, a woman suspected as his younger sister Kim Yo Jong accompanied him.
As Kim Jong Il's first son Kim Jong Nam, 44, was out of his father's favor due to the failed attempt to illegally enter a foreign nation, attentions were paid to the second son Kim Jong Chul as a successor of the regime. However, Kim's weak and introvert character has left him excluded. This is the first time when Kim Jong Chul was seen in the public since Kim Jong Un regime was established in 2011.
bae2150@donga.com