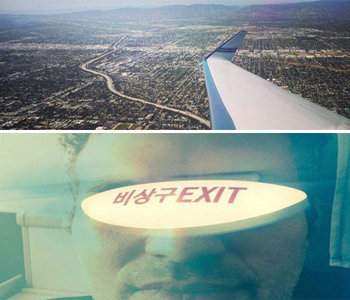 The entertainment community remembered the victims of the ferry Sewol sinking Thursday, the first anniversary of the tragedy that claimed 304 lives.
Actors starring in "Avengers: Age of Ultron," who arrived in Korea on Thursday to promote the blockbuster film to be released on April 23, did not disclose their schedules in consideration of the mood. Instead, Mark Ruffalo and Robert Downey Jr. posted on social networking services photos of them aboard an airplane bound for Korea, indirectly delivering news of their visit to the country. Korean-American actress Kim Soo-hyun, who played the role of Dr. Cho in the film, left a message on her SNS account, saying, "We will not forget" in memory of the victims.
On actor Kim Woo-bin`s gallery on popular community website DCInside, a user posted Kim`s letter to a teenage fan of his who was killed in the ferry disaster on Wednesday. In the letter, written two days earlier, the actor thanked the deceased for being his fan. The poster said that the friends of the deceased had asked Kim`s agency for the letter as a present for the victim.
Many other entertainers including singers Yoon Jong-shin, Solbi and boy band EXO member Chanyeol posted messages in memory of the victims on their SNS sites.
Actress Jeong Ryeo-won posted a commemorative artwork and a message saying, "Don`t forget the Sewol." Singer Cho Kwan-woo released the music video of "Pungdeung" (Sky Lantern), a song commemorating the Sewol victims. The music video was directed by actor Lee Kyeong-yeong and features dancer Popin Hyun-joon.
iamsam@donga.com