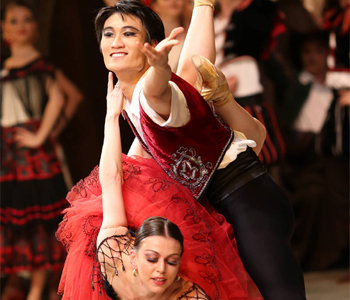 "As soon as I arrived in New York to participate at the Youth America Grand Prix (YAGP) Concourse gala performance, an advisory committee member of Mariinsky Ballet told me, "Ki-min, visit the ballet troupe's website, and you will find good news." After checking the site, I was completely surprised. The title 'principal dancer,' which had always been my cherished dream, was seen placed next to my name."
Voice of Kim Ki-min, 23, a principal dancer at Russia's Mariinsky Ballet, sounded somewhat excited when he received this reporter's phone call in New York on Wednesday.
Mariinsky Ballet officially announced on Monday that it promoted Kim to a "principal." It is the first time that an ethnic Asian ballerino has become a principal dancer at a world-class ballet troupe.
"When entering Mariinsky Ballet in 2011, I was the first Asian to join the troupe. It seems that I have opened a new chapter once again through my promotion to principal dancer, for which I feel thrilled and sense of responsibility at once," Kim said. "Because I knew handicaps of Asian ballerinos who are active in the West better than anyone else, I had strong commitment to display outstanding performance, rather than just better performance, and thus exercised much harder than others."
Mariinsky Ballet, based in St. Petersburg, Russia, is a world-class ballet troupe with a 232-year-old history since the establishment in 1783. Unlike other ballet troupes, Mariinsky has no test system for promotion of its dancers. Instead, the troupe always evaluates qualification and skills of its dancers onstage to pick members who will win promotions. "This promotion was a total surprise," Kim said in expressing joy. The grade levels at Mariinsky Ballet are "principal – soloist 1 – soloist 2 - coryphees (group dance).
Kim said, "While I have been exerting efforts to demonstrate that an Asian male dancer can play the main character, from now on I will focus my efforts on promoting the true value of an Asian Principal dancer."
kimje@donga.com