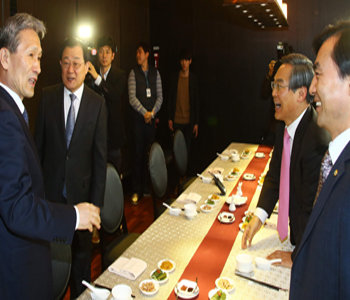 Lee Byung-kee, President Park Geun-hye`s chief of staff, had a luncheon meeting with leading members of the New Politics Alliance for Democracy (NPAD) in Seoul on Wednesday for rare direct communication with the main opposition party.
Six NPAD members were present at the meeting, including the party`s floor leader Woo Yoon-keun and deputy floor leader Ahn Gyu-baek. From the presidential office Cheong Wa Dae, Cho Yoon-sun, the presidential senior secretary for political affairs, and National Security Office Director Kim Kwan-jin.
At the meeting, the NPAD floor leader urged the Park administration to resolve legal issues involving the enforcement decree for a special law on the sunken ferry Sewol and to stop unilaterally pushing for the controversial reform of the government employees` pensions, according to Seo Young-kyo, an NPAD spokesman. NPAD lawmaker Baek Kun-ki said that it was not in the national interest to play politics on the proposed deployment of the terminal high-altitude area defense (THAAD) missile system.
The Cheong Wa Dae officials reportedly said they would pay attention to what the opposition lawmakers said, without giving any specific responses. One NPAD lawmaker who was present played down the gathering, claiming that it was nothing but a courtesy meeting with opposition members of the National Assembly`s Steering Committee, which oversees Cheong Wa Dae, following a meeting with the panel`s ruling party members. He added that the meeting looked "unusual" because Lee`s predecessor hardly communicated with opposition parties.
constant25@donga.com