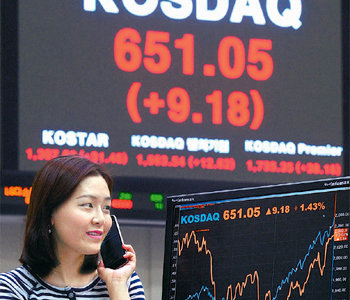 The tech-heavy KOSDAQ market is extending its rally. Helped by net buying by institutional and foreign investors, the KOSDAQ Index topped 650 for the first time in six years and nine months. The main KOSPI also broke a new yearly high.
The KOSDAQ Index closed Wednesday at 651.05, up 9.18 points from the previous day. A figure above 650 is the first since 655.11 marked on June 2, 2008. The KOSPI rose 1.55 points, or 0.07 percent, to close at 2,042.81.
In the KOSDAQ market, institutional and foreign investors net purchased 73.3 billion won (66.52 million U.S. dollars) and 20.1 billion won (18.24 million dollars), respectively. Retail investors net sold 89.8 billion won (81.49 million dollars) to realize capital gains. Nevertheless, individual investors were the main driver of KOSDAQ surge this year. They have net purchased 302.1 billion won (274 million dollars) this year, topping 285.2 billion won (259 million dollars) of institutional investors and 89.9 billion won (81.58 million dollars) of foreigners.
The KOSDAQ Index rose 19.91 percent so far this year. The combined market capitalization of firms listed on the KOSDAQ market surged to an all-time high of 173.7 trillion won (157.6 billion dollars) on Wednesday, up 21.38 percent from 143.1 trillion won (129.9 billion dollars) tallied at the end of last year. Daily average transactions in the KOSDAQ market also rose to a record 2.9 trillion won (2.63 billion dollars), up 47.21 percent from 1.97 trillion won (1.79 billion dollars) at the end of last year.
Some express concerns that the KOSDAQ market is now in an overheated state. As of Tuesday, outstanding stock-secured loans on Korea`s stock market reached 6.33 trillion won (5.74 billion dollars), among which loans outstanding on the KOSDAQ market was 3.37 trillion won (3.06 billion dollars). This means that investment in the KOSDQ market by taking out loans surpasses that of the KOSPI.
minwoo@donga.com