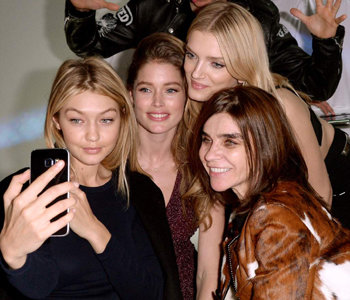 Samsung Electronics has launched aggressive "design marketing" campaigns for the Galaxy S6 and the Galaxy S6 Edge, targeting opinion leaders of the global fashion industry by convening a separate unpack event for the new smartphones among other activities.
Samsung Electronics held the Paris Fashion Week "Tasting Night with Galaxy" by inviting more than 100 editors of world-renowned fashion magazines such as the Vogue, designers and entertainers, at Four Season Hotel in Paris, France on Saturday.
The event brought together a number of fashion leaders, including Vogue International editor Suzy Menkes, who is known as the "godmother of the world`s fashion circle," senior officials from global fashion magazines including Elle, Harper's Bazaar, and Marie Claire, and designers from luxury brands such as Missoni, Moncler, Maison Martin Margiela, and Emilio Pucci. Vice President Lee Young-hee, marketing team head at Samsung Electronics, also attended the event to represent the firm.
Organizing an unpack event for the fashion industry is a new marketing method that Samsung Electronics is testing for the first time. Through famed leaders of the fashion world, the electronics giant aims to widely promote its design power. In September last year, Apple also invited opinion leaders of the fashion industry, including chief editors of major fashion magazines, to an event where it unveiled the iPhone 6 and Apple Watch.
At Saturday's event held under the concept of traditional French meal, the Galaxy S6 was presented to guests as if fine cuisine is served. Participants commented, "It is very fresh and noble in that the Galaxy S6 and the S6 Edge are presentation of harmony between strength of metal, flexibility of tempered glass, simple straight line and dynamic curved line."
Samsung Electronics will use "force of fashion" as the key word for its mid- to long-term fashion campaign, according to the company. It aims to position smartphones and smartphone accessories as important and indispensable elements of fashion at the center of fashion.
Samsung Electronics has continued integration of its products with fashion starting with the introduction of the A680 mobile phone's limited edition through collaboration with famed designer Diane von Furstenberg in 2004. The company conducted collaboration with Swarovski, Mont Blanc, Diesel Black Gold on the Galaxy Note 4 last year.
jhk85@donga.com