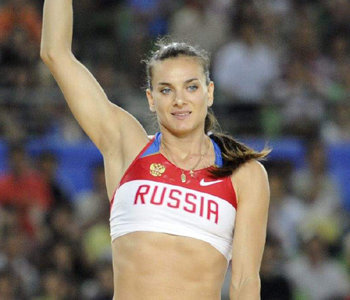 Will people have a chance to see "Flying Beauty Bird" fly again?
Russia`s pole vaulter Yelena Isinbayeva is set to participate in the Rio de Janeiro Olympics in 2016. "I want it so much [to beat the world record in Rio]," At a press conference in Moscow on Thursday (Korea time), the 32-year-old Russian told reporters on Thursday. "I was not happy with my (bronze medal) performance at the 2012 Olympics in London. Now the time has come to try and get back into training."
The two-time Olympic champion, who broke world records in Pole Vault as many as 28 times, received the gold medals at the Athens Olympics in 2004 and the Beijing Olympics in 2008. After winning the title at the Moscow World Championship 2013, she said, "My career will come to its end at the world championships." After getting married, she gave birth to a daughter, living life as an ordinary homemaker. Raising her seven-month-old daughter, she recently joined the CSKA Athletic Club in Moscow both as athlete and instructor, taking the necessary steps to resume her athletic career. "I hope at the end of this year I will be able to decide whether I`m ready to compete for the gold medal at the 2016 Olympics. I`ll need some time to finalize my decision. But if my old injuries prevent me from obtaining my top form I`ll quit," the 32-year-old said.
Meanwhile, the sports games, for which admission tickets that were put on sale from January are priced the highest, are reportedly athletic sports, basketball, volleyball and beach volleyball. The most expensive seats for these sports are priced at 43 dollars per seat. The price of the most expensive tickets for the opening and closing ceremonies is set at 1,840 U.S. dollars per seat. The sports games for which tickets are the cheapest are race walking, mountain biking, and marathon swimming, which are set at 13 dollars per seat.