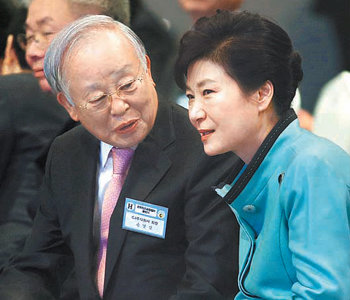 The "Culture and Creation Convergence Center" opened at the CJ E&M Center in northern Seoul on Wednesday. In charge of planning and developing cultural contents, the center will be fostered into a culture and creation convergence belt along with the Culture and Creation Venture Complex that will generate content, the Culture and Creation Academy that will foster cultural talent and the K-Culture Valley that will house concert halls and the Korean Wave Content Park. The venture complex and the academy will open at the end of 2016, and the K-Culture valley will be set up at the end of 2017.
The presidential office Cheong Wa Dae said that when the K-Culture Valley, where 1 trillion won (908 million U.S. dollars) will be invested, opens, around 25 trillion won (22.7 billion dollars) of economic spillover effects will be realized and 170,000 jobs will be newly created for the next 10 years.
President Park attended the inauguration ceremony of the Culture and Creation Convergence belt at the CJ E&M Center building and said, "The culture content industry is key industry in this creative economy age where imagination and idea become a product, and is an alchemy of the 21st century that creates new value-added," adding, "The belt is a platform that will foster both culture and a creative economy."
The Culture and Creation Convergence belt will be joined by 64 major companies and institutions engaged in cultural contents, including movies, music, fashion and games.