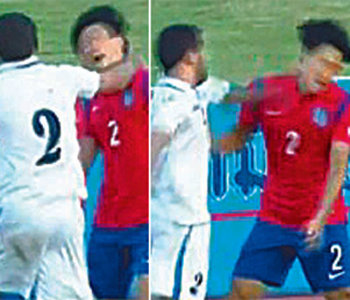 Are they seeking to take vengeance against Korea on behalf of members of its senior team, which lost to Korea in the quarterfinal match at the AFC Asian Cup in Australia?
The Uzbekistani U-22 team is earning the condemnation from soccer fans worldwide due to its violent acts defying common sense in the match against Korea.
The Korea Football Association filed official complaint to the organizing committee of the event on Monday. "We will wait for the organizing committee's response for now. If the result is not deemed reasonable, we will take stern action, including filing complaints against Uzbekistan not only with the Thai soccer association but also the AFC," a source at the association said. "Reasonable disciplinary action would include not only suspension of the players in question but also measures to prevent recurrence and adequate explanations."
Korea beat Uzbekistan 1-0 as Song Joo-hoon (Niigata) scored a goal at the 23rd minute in the first half at the first match of the King's Cup soccer championship held at Nakhon Ratchasima, Thailand on Sunday.
After losing the point, Uzbekistan's Yarollidin Mashridov kicked Kang Sang-woo in the chest with foot, and was forced out by the referee. At the 41st minute in the second half, Toshirion Shamdinov beat Shim Sang-min in the face in succession with his right fist, left palm, and right palm, before being forced out.
The U.K. newspaper Daily Mirror carried video footage on the scenes of violence on its website, and reported that "Uzbekistan under-22s prove themselves to be football`s most violent team." A flurry of international media outlets are condemning Uzbekistan.