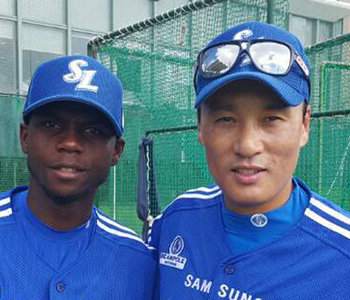 Players who have met again wearing the same uniform in four years were all smiles. They are Lee Seung-yeop, 39, and Alfredo Figaro, 30, who started off-season training together in Guam on Sunday. Lee and Figaro played for the Orix Buffaloes in the Japanese pro league for one year in 2011. Struggling in a deep slump, Lee left the Yomiuri Giants and moved to Orix, where he helped Figaro who joined after playing for the Detroit Tigers for two years, adapt to strange Asian culture and the Japanese pro baseball system. Lee would give Figaro rides during morning and evening commutes, and they built up friendship, as they both experienced disadvantages and subtle discrimination against foreign players in Japan.
At Orix in 2011, Lee had 15 homers and a batting average of 0.201, while Figaro had eight wins and six losses and an ERA of 3.42. The two players, who had separate paths after Lee's return to Samsung in 2012, have met anew this time due in part to their past relationship. Lee recommended his team to recruit Figaro for two years, saying, "Figaro is a good pitcher." Figaro, who was invited by a number of Korean teams last year, opted for Samsung uniform, saying, "I will play for Samsung, to which Lee Seung-yeop belongs." Samsung Manager Ryu Joong-il also reportedly had desire to recruit Figaro he had been monitoring on TV since long ago while the latter was playing for Orix.
Hailing from the Dominican Republic, Figaro had a top speed fastball of 157 kilometers per hour in the Japanese league, and reportedly boasts good pitching control on top of speedy fastballs. "I feel secure and confident because my friend (Lee Seung-yeop) is here. I think we can enjoy baseball in the champion's team," said Figaro, who joined Samsung's spring training camp on Saturday. "Even if you have any difficulties, don't worry because I am here to help you. The mood in Korea is like family," Lee said while welcoming Figaro. Lee is displaying renewed sense of responsibility and ambition through Figaro, who will trust and follow him.
Success of foreign players is determined not only by his outstanding capacity and performance but also by harmony with teammates. Samsung, which is targeting its fifth consecutive Korean Series title this year, hopes that Lee-Figaro reunion will prove to be a positive development for the team.