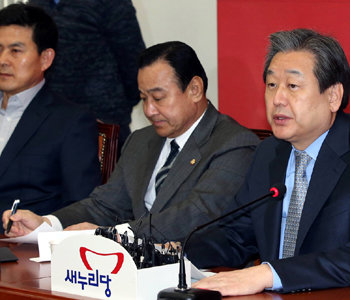 Amid a power struggle within the ruling Saenuri Party, a minor faction keeping its distance from President Park Geun-hye are on the offensive against the president, calling for re-establishment of the party's relationship with her office Cheong Wa Dae. The pro-Park faction, which criticized the party's chairman Kim Moo-sung for his "dogmatic" leadership, is refraining from counteracting the offensive.
The change came after Kim was photographed looking at a notepad inscribed with writing accusing two people, identified by their initials K and Y, of masterminding the recent scandal triggered by the leak of a presidential document.
Kim Sung-tae, a second-term Saenuri lawmaker close to the party chairman, told the Dong-A Ilbo over the telephone on Thursday he did not think a Cheong Wa Dae official's claim that the party chief was behind the leak was his personal opinion. "If Cheong Wa Dae ignores the head of the ruling party, the president would lose respect, too," he said. Complaining that the party chief's phone call to the president's chief of staff was not answered, Rep. Kim urged the president to "correct" her staff's attitude toward the party.
Another Saenuri lawmaker, Kim Young-woo, also told a radio talk show that the president needs to overhaul the Cheong Wa Dae staff to make a system that could "serve as a buffer" (between her office and the ruling party).
The pro-Park faction was cautious. A senior member of the faction claimed that biases were involved in the latest political scandal and that Cheong Wa Dae's dismissal of the official was a show of respect for the Saenuri chief. Another pro-Park lawmaker noted that he could not understand why the non-Park faction was so upset about the Cheong Wa Dae official's remark, which no one believes.
Such a reaction by the pro-Park faction is a major shift from its earlier criticism of the Saenuri chairman for his single-handed leadership. Apparently conscious of such an atmosphere, the pro-Park faction members decided to avoid commenting on political issues at an upcoming forum.
It seems that the pro-Park faction decided it would gain nothing from waging a war of words with the non-Park group over the controversial remark by the Cheong Wa Dae official and that it felt burdened by giving the impression of attacking the Saenuri chief's leadership.