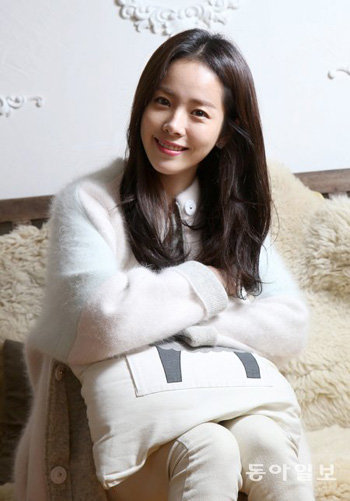 What if actress Han Ji-min, the goddess of innocence, gets not just easy-going but also dirty? The move "Plan Man" to be premiered next Thursday is a story of a man (played by actor Jeong Jae-yeong) who is obsessed with cleanness and meticulously plans everything by seconds. And So-jeong played by Han Ji-min is an underground singer whose character is right opposite. Some women audiences may feel displeased watching her in a comfortable shirt chew grilled beef intestines with a drink. Now, she is not just pretty but also tries to get the easy-going image.
- "Hahaha, I sometimes pretend to be innocent. But I am not in reality."
When Dong-A Ilbo met Han Ji-min at a coffee shop in Samcheong-dong, Seoul, smiled like a little puppy. She had the intimacy of little sister often appearing in a morning soap drama. In reality as well, the actress is the youngest daughter who likes to watch TV with her grandmother.
- The character in Plan Man is quite different from the previous characters you have played. What is your actual character like?
"I often pick up and eat the food I dropped. And I like beef intestines."
- Didn't you have any worry about cosmetic commercials (when taking this role)?
"I wasn't afraid of that. Limiting the scope of character is a minus for actors."
- Three years has passed since Detective K, the movie prior to this. What did you particularly like about this movie 'Plan Man'?
"I thought the character was interesting. There are not many interesting characters that can be played by an actress at my age. As soon as I knew that I would play opposite Jeong Jae-yeong, I made up my mind. I got a very strong impression from his previous characters such as the creepy village foreman in the movie 'Moss.' Unlike the image in the movie, he usually comes to the set in sweatpants and slippers and chats away with staff members. But he gets sharp-sighted again like the village foreman when we talk about the movie."
- I was astonished at your singing in the movie. It was quite good.
"Recording techniques are very good these days. I learned how to play the guitar and ukulele and received vocal training. I even had laryngitis after too much of vocal exercises. Thankfully, Muzie of UV, a producer and writer of the song, gave a good touch to the song.
― What scenes in the movie do you particularly like?
"The scene where I drink with the plan man in a grill house. I drank two bottles of Soju to shoot the scene."
― Are you a person who plans things in advance? Any plan for marriage?
I have lived without plans for a long time. I had always thought I would marry at about 27 and have at least four kids. But it is already too late to be achieved. Looking at my elder sister, it seems raising even one kid is tough."
― What is your new year's wish?
"I wish everyone around me is healthy. Being calm is the best."