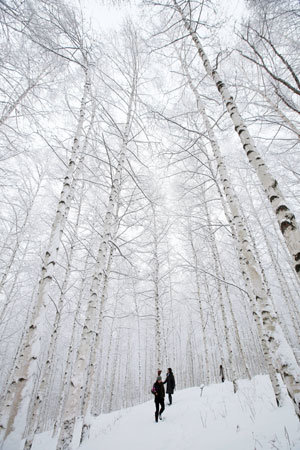 In the middle of a snow-covered winter forest,
I don`t know which is forest
Or which is snow…
White snow has fallen on a white forest.
As I come closer to the forest,
I find white birches exposing their white skins
It is a scene of exotic beauty.
A scene in a Russian novel I read in my youth
White-tanned by white snow,
The scenery of the white birch forest looks like a black-and-white picture.
All is white from the sky to under my feet.
The light reflected from the white tree skins further blind my eyes.
I feel like wring a love letter beautifully and elegantly
On the white skin of the twinkling white birches.
I feel like extending my hands, offering to go on a quite trip down memory lane
Into the scenery of the white birch forest in Inje, Gangwon Province,
Where a pure white order is unfolded.
My love.