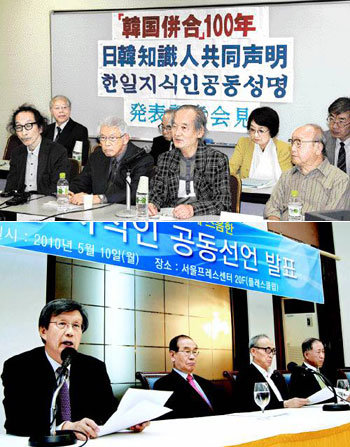 A group of Korean and Japanese scholars said Monday that the treaty that Japan used to annex the Korean Peninsula in 1910 was illegal and invalid.
Commemorating the centennial year of the annexation, a combined 214 intellectuals from Korea and Japan declared a joint statement to that effect at news conferences in Seoul and Tokyo.
Korea's 109 intellectuals included Yuhan University President Kim Yeong-ho and Seoul National University professor emeritus Yi Tae-jin. They announced a joint declaration of intellectuals from Korea and Japan saying the treaty was invalid at Seoul Press Club in central Seoul. Japan's 105 intellectuals including University of Tokyo professor emeritus Wada Haruki announced the same statement in the Japanese capital. The joint statement was coordinated by Kim and Wada.
In the statement, the scholars compared the different interpretations of the two countries on the phrase, "All kinds of treaties and agreements signed on or before Aug. 22, 1910 are already null and void," contained in the second clause of the 1965 treaty that normalized bilateral ties.
They said Korea's interpretation that the annexation treaty was illegal and invalid from the moment of signing should be accepted. Japan has said the treaty became invalid in 1948, when the Republic of Korea was established.
"Given the facts on the history of the annexation and unbiased perceptions, Japan's interpretation of the treaty cannot be maintained. The treaty was unfair from the beginning. Accordingly, Korea's interpretation that the treaty was null and void from the beginning should be accepted as a common perspective," the statement said.
"Japan's annexation of Korea was literally imperialist behavior that used military force to suppress strong resistance by all Koreans ranging from the emperor to the general public. It was also unlawful and unfair behavior. The preface and body of the treaty were also false. Significant flaws and defects were found in the procedures and forms of the treaty."
The declaration was signed by Kim Jin-hyeon, chairman of a committee to establish the Republic of Korea History Museum, Seoul National professors emeritus Paik Nak-chung and Yi Tae-jin, poet Ko Un, University of Tokyo professor emeritus Sakamoto Yoshikazu, and Nobel Prize winning novelist Kenzaburo Oe.
After launching their intent to announce the joint declaration in December last year, the scholars from both nations have held numerous discussions over the past five months. They agreed on the final statement after five significant compromises.
jameshuh@donga.com jkmas@donga.com