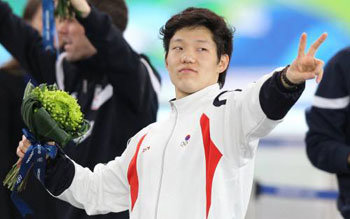 Mo Tae-bum gave a big smile on the awards podium at the Vancouver Winter Olympics yesterday. Though failing to stand on the highest spot, he still made Korean history by winning the silver medal in the 1,000 meters.
The gold medalist in the men`s 500 meters, Mo is the first Korean speed skater to win two Olympic medals.
He clocked in at 1:09.12 in the 1,000 meters at Richmond Olympic Oval in Vancouver. The gold went to Shani Davis of the U.S., the world record holder, with a time of 1:08.94. Mo maintained his lead until the race of the last group, to which Davis belonged. The American skater sped up on the final lap to beat Mo by 18 hundredths of a second.
Korean athletes have won many medals in short track, an event that Korea has traditionally been strong in. Before Mo, Korea had won just a silver and bronze in speed skating.
In short track, both Korea's men and women teams showed mixed results. In the men's 5,000-meter relay, the team of Lee Ho-suk, Sung Si-bak, Kwak Yoon-gi and Kim Seong-il finished at the top of their group to advance to the final. In the men's 1,000-meter qualifiers, Lee Jung-su, Lee Ho-suk and Sung also made it to the quarterfinal, leading their group.
The Korean women's team of Lee Eun-byul, Cho Ha-ri and Park Seung-hi, however, all failed to advance to the final of the 500 meters.
why@donga.com