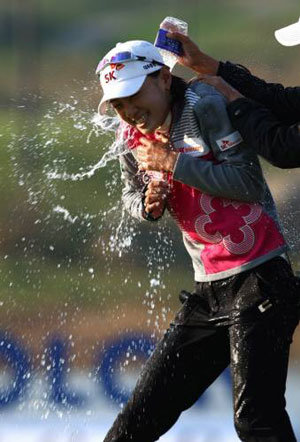 Choi Na-yeon won the Hana Bank Kolon Championship yesterday, her second victory in a major LPGA tournament.
The 22-year-old golfer shot a five-under-67 in the final round to finish at 10-under-206 at Sky 72 Golf Club`s Ocean Course in Incheon, earning 225,000 U.S. dollars in prize money. Her dramatic victory came at the expense of Taiwan's Tseng Yani and Sweden's Maria Hjorth, who tied for second at 9-under-207.
Choi's victory came less than two months after her first on the LPGA Tour at the Samsung World Championships in the U.S. in September.
"I wanted to protect Korea's pride as this championship was held on my home turf," she said, thanking fans.
When she tied with Hjorth on the 18th hole (par five, 500 yards), Choi fired a shot with her driver 211 yards away from the pin. He second shot fell right before the green.
The situation was reminiscent of the 18th on the last day of the Samsung tournament in September, when she rallied to win after leader Ai Miyazato of Japan shot her ball into a lake.
History repeated itself yesterday. Hjorth's ball fell into a lake, and Choi sank a birdie with a 58-degree wedge. The Swede put her fourth shot on the green, ending up with par.
"When I fail to win, I feel anxious and jittery," Choi said. "Now, I'm full of confidence. The word 'failure' is gone from my head."
Shin Ji-yai, who could win multiple titles including Player of the Year, finished sixth with 3-under-213, moving up from 17th the previous day. Her Player of the Year points rose to 141, higher than Mexican rival Lorena Ochoa's 131.
Among Korean players, Hong Ran finished fourth, Kim Song-hee fifth, and Pak Se-ri and Park Inbee tied for seventh.
kjs0123@donga.com