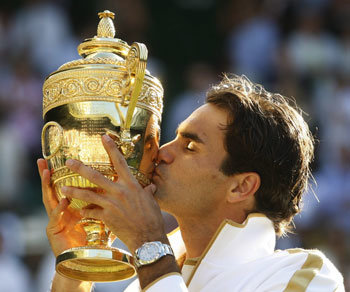 Tennis wunderkind Roger Federer has finally won that elusive 15th Grand Slam victory to surpass Pete Sampras' career mark.
In the final of the Wimbledon men's singles at the All England Club near London yesterday, Federer defeated world No. 6 Andy Roddick of the U.S. in a marathon five-set match, 5-7, 7-6 (8-6), 7-6(7-5), 3-6, 16-14.
The final set lasted 30 games, a record in a major championship, and the match lasted four hours 16 minutes.
Federer broke the career Grand Slam mark with Sampras watching in the stands.
Federer's wife Mirka Vavrinec prayed for her husband's victory ahead of the child she is expected to deliver this summer. The two married in March after a long-term relationship.
Federer played in his seventh straight Wimbledon singles finals and earned his sixth title there, claiming 850,000 pounds in prize money. He also probably recovered the world's top ranking that he lost to his recent nemesis Rafael Nadal of Spain in August last year.
Federer has suffered successive losses to Nadal and even wept after finishing second to the Spaniard. He has rebounded, however, by winning the French Open last month and Wimbledon yesterday.
Joo Won-hong, honorary coach of the Samsung Securities tennis team, said, "Federer has upgraded tennis to the level of art. He has shown confidence on all courts and attained great achievements since he has a flexible body and suffered few injuries."
Federer lost the opening set to Roddick and almost conceded the second but won two straight tiebreakers to take a two-sets-to-one lead. He also had 50 service aces, an individual record.
Riddick won a standing ovation from the fans after his loss, but lost to Federer for the fourth time in a men's final, including in the 2004 and 2005 Wimbledon tournaments and the 2006 U.S. Open.
kjs0123@donga.com